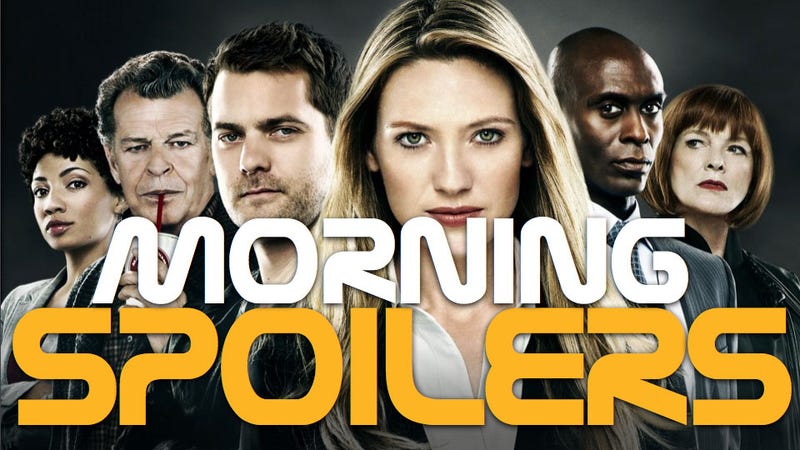 Scarlett Johansson films another batch of scenes for her sexy alien hitchhiker movie Under the Skin. Find out everything you need to know about the star-studded science fiction comedy Space Station 76. Plus tons more on what's ahead on The Vampire Diaries!
Spoilers from here on out!
Top image from Fringe.
Logan's Run
Ryan Gosling has reportedly dropped out of his Drive director Nicolas Winding Refn's planned remake of the 1976 sci-fi thriller — or, perhaps more accurately, planned new adaptation of William F. Nolan and George Clayton Johnson's 1967 novel. Anyway, there's no word yet on why Gosling dropped out, although in previous interviews it was made fairly clear that his only real interest in the project was as a favor to Refn, so perhaps the director will also soon be exiting the project. [Coming Soon]
---
Under the Skin
Here are a couple set photos from the recent reshoots in Glasgow of Sexy Beast director Jonathan Glazer's new film, in which Scarlett Johansson who plays an alien hitchhiker who preys on humans for their flesh — which if I recall previous plot descriptions involved a certain amount of Species-style sex and seduction, although Johansson swears there are a bunch of philosophically complex questions being considered as well. Which, you know, anything's possible. Anyway, here's a photo of her falling down while wearing a black wig. [Indiewire]
---
Space Station 76
First-time writer-director Jack Plotnick has reportedly wrapped production on this retro science fiction comedy, which stars White Collar's Matt Bomer, Super Troopers actress Marisa Coughlin, Piranha 3D's Jerry O'Connell, Lord of the Rings actress Liv Tyler, and Watchmen's Patrick Wilson. We featured some concept art from the film a while back, and now here's the painstakingly complete, supremely lengthy synopsis for the film: