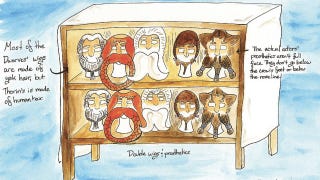 This past spring, we, along with several other members of the press, were invited to Wellington to visit the set of The Hobbit, and at long last, we can reveal some of what we saw and learned, including more details on how Peter Jackson is expanding J.R.R. Tolkien's original story, how Gandalf will spend his time away from the main party, the Dwarves' individual personalities and backstories, and just how all this Middle Earth craziness is being filmed. Many, many spoilers below.
No cameras were permitted at Stone Street Studios and Weta during this particular set visit. Instead, we have sketches from my notebook and illustrations I made based on my sketches and notes. (Those of you who have read my critiques of other people's artwork get to enjoy my terrible sense of perspective.) Since the sketches were assembled hastily, you'll have to take everything here as a rough approximation of the actual visuals. (Thorin's sword, for example, may look slightly different from my illustration below.) But we've done our best to bring you a small taste of the visual experience of visiting the set.
So what is going on in The Hobbit: An Unexpected Journey? Again and again, we heard that The Hobbit films will maintain the somewhat lighter, adventure story tone that separates it from Lord of the Rings while fleshing out the connections between the two stories and adding a bit more individuality to the characters. And it's all being achieved with close attention to the details of concept design, costuming, makeup and prosthetics, prop creation and special effects. Here's what we learned about the first film in The Hobbit trilogy from the cast and crew:
The Ballad of Bilbo Baggins
The journey of The Hobbit starts, of course, with our titular Hobbit, Bilbo Baggins, portrayed by Martin Freeman. Despite Jackson's expansion of The Hobbit story to connect it to Lord of the Rings, Bilbo's transformation from timid Hobbit into hero remains at the center of the films. And Gandalf is the one who gives him that first nudge. Jackson explains:
[Gandalf] just remembers this young Bilbo Baggins as a young child who was the one Hobbit that he sees that loves adventure likes danger, loves scary stories. That has a more outgoing spirit, and when he wants a hobbit to be a burglar on this adventure he returns to Hobbiton many years later and he finds Bilbo. He deliberately hunts down Bilbo, because that's the hobbit who he thinks would be the best one to pick for this. He's appalled and shocked to find at the end of eighteen years Bilbo's become stuffy, and ultra conservative, and not at all like the little boy that he remembers. So that's the beginning of their relationship really.
So Gandalf forces Bilbo onto this mission with the Dwarves, and throughout the films, the Hobbit will find himself confronted with people who have warring agendas. Bilbo doesn't have these same sorts of motivations, but he has somehow found himself on an adventure involving all these factions and he has deal with them. By handling these personalities and their distinct interests—and encountering a few especially dangerous foes—Bilbo will gradually grow into his heroic role, and that unlikely hero is what Jackson finds so appealing about Bilbo's story:
The Hobbits are always the greatest heroes 'cause they're us, they're the unlikely hero who is thrust into this incredible danger and they have no choice but to get the goodness within themselves and the strength within themselves and try to survive and get through it, so they're always the most interesting heroes. They're not flawed, they're just unlikely heroes. They're not the sort of person you would really think would be able to take on a dragon, but when you see them actually doing that, I find that sort of heroism in films really interesting. Legolas is just a hero. I don't identify myself with Legolas that much. Just go and let Orlando do his thing and it's great for the movie [Note: Not necessarily the first Hobbit movie]. It's good.
Freeman, for his part, says that he "wasn't steeped in" Tolkien during his life. But he wanted to make the part of Bilbo his own, rather than basing his performance on Ian Holm's older Bilbo in Lord of the Rings. Freeman says, however, that he did study Holm's performance closely for certain key points during filming of The Hobbit. (He wouldn't say where in the films those key points crop up.)
And will Bilbo be feeling the effects of the One Ring during the films? Tolkien wrote The Hobbit two decades before Lord of the Rings and hadn't yet fleshed out the Ring's backstory and nature. Jackson explains that the Ring won't be quite as dastardly in The Hobbit films as in Lord of the Rings:
The way that it's rationalized, and I think people in the Tolkien world have rationalized it as the ring doesn't really gain its power until Sauron comes back and actively starts to look for it, so it's asleep for a while and in the days of Frodo it's getting very agitated and it wants to find its way back to Sauron.
There will, however, be nods to the Ring's power. The first time Bilbo puts on the Ring, says Jackson, it will seem to be a mere magic ring, but he'll experience more of the Ring's effects each time he uses it. Martin says that the Ring will have a recognizable pull on Bilbo, but that pull will "take a different turn" than it does in Lord of the Rings. Freeman notes that even though the tone of The Hobbit is a bit lighter than Lord of the Rings:
But it doesn't mean the stakes aren't there. It definitely still has to matter that he is in possession of this thing. And I think a lot of the time, even he doesn't realize why he wants to hold onto it so much, but there is an unspoken hold that it has on him, an unconscious hold.
Jackson says that we'll see some of the Shadow World when Bilbo slips on the Ring, but it won't be so nightmarish. It's in its infancy, before attracting the Eye of Sauron.
Gandalf's Journey
Meanwhile, Gandalf (Sir Ian McKellan) will vanish and reappear throughout Bilbo's journey, but unlike in the novel, we will get to see where Gandalf disappears to. As we've noted before, this is no great surprise since Tolkien explained what Gandalf was doing during those missing moments in the appendix to Return of the King. When Gandalf leaves the Dwarves, we learn why he throwing his support behind Thorin's quest. (Tolkien explains the relationship between Thorin's quest and the White Council in that appendix.) While the adventure story sits at the core, McKellan explains, "There will be the politics of Middle Earth going on in the background as a support."