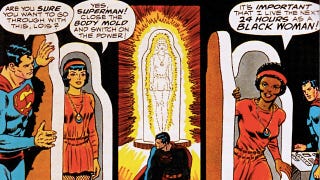 Every now and again, comic book writers try to infuse superheroes' foibles with societal relevance or their own personal political beliefs. But in fictional worlds where Galactus the World Devourer tries to eat the biosphere every two weeks, these attempts can get downright baffling.
Magneto throws garbage at Wolverine for disagreeing with him
As the revolutionary figurehead for mutants in the Marvel Universe, the X-Men nemesis Magneto has delivered fiery oratory out the wazoo, some of it tremendously overwrought. (For example, there's a fantastic two-page splash page in 1991's X-Men #1 of Magneto screaming a small pamphlet at the X-Men while frozen in place.)
But more recently, in the 2012 Neal Adams series The First X-Men, Magneto pleads that Wolverine tread the path of prudence by threatening the clawed one with a receding hairline and rusty taxis, all the while preening like Tim Curry in The Worst Witch.