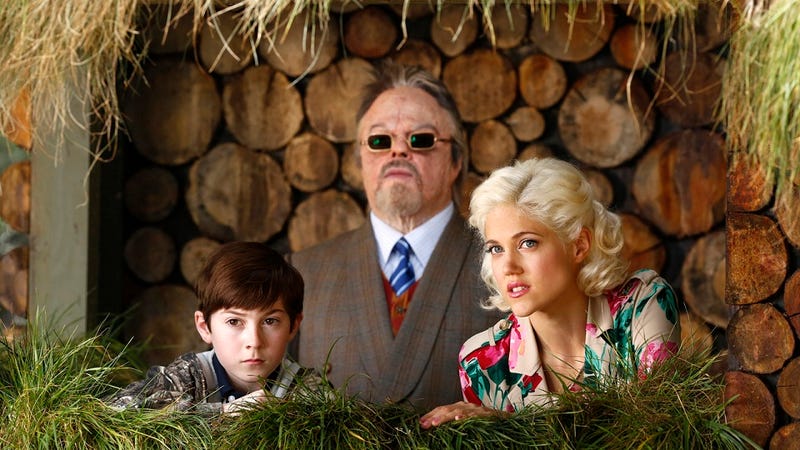 This week on TV, the Venture Bros. are celebrating Halloween in their own unique style. There's the single best cast of a Syfy Original Movie you could possibly imagine, including one Star Trek star and Ernest Hemingway's grandkid. One of DC Comics' coolest characters is coming to Arrow, and Buzz Aldrin is playing himself on Big Bang Theory. Plus Fringe is back!
But most of all, there's a brand new show from Pushing Daisies creator Bryan Fuller... and it's the biggest missed opportunity that television has given us in quite some time.
Today:
Adventure Time (7:30 PM, Cartoon Network):
So last week's Adventure Time really knocked me on my keister, and I can't remember when I've been so intensely affected by an episode of a weekly cartoon. And this week, they're following that up with... return of the Lich King. Uh oh. Check out a clip at left, in which Billy is acting kind of untrustworthy... and here's what to expect:
"The Lich": Ooo's secrets are revealed during a visit from the Lich King.
As usual, it's followed by Regular Show and Annoying Orange.
Alphas (8 PM, Syfy):
It's the season finale! And let's hope, not the series finale, given that this show has been picking up quite a bit of steam this year, and it's made a pretty strong case that these characters still have a lot of interesting places to go. In any case, here's what's going on in "God's Eye":
A desperate and slightly delusional Rosen becomes determined to confront Stanton Parish over Dani's fate, while the team races against time to keep the Alpha leader's deadly plan from happening.
Also on TV tonight: A new episode of Crash & Bernstein on Disney XD at 8:30 PM.
---
Tuesday:
Level Up! (7:30 PM, Cartoon Network):
The season two premiere of this live-action show about video game characters escaping into the real world. And here's what to expect from "Little HQ of Horrors": "Wyatt leaks a vine from the game that grows out of control."
Also on TV tonight: There's a new Looney Tunes Show on Cartoon Network at 8 PM.
---
Wednesday:
Arrow (8 PM, The CW):
This show is already featuring one of the greatest DC Comics characters of all time. Let's hope they don't screw him up:
DC COMICS' VILLIAN DEADSHOT SETS HIS SIGHTS ON ARROW - Oliver (Stephen Amell) is surprised when someone shoots and kills one of his targets. As his plan is to bring people to justice vs. outright killing them, Oliver doesn't appreciate the help and searches for the gunman. He soon learns that the man, Deadshot (guest star Michael Rowe), is taking out businessmen who are scheduled to bid at an auction on an energy company and Walter (Colin Salmon) is one of the bidders. Realizing he can't protect his family and stop Deadshot at the same time, Oliver enlists Detective Lance's (Paul Blackthorne) help, but his plan has dire consequences. Meanwhile, Laurel (Katie Cassidy) and Tommy (Colin Donnell) get caught in an awkward situation with Oliver.
The Neighbors (8:30 PM, ABC):
It's another Halloween episode:
"Halloween-ween" - Since arriving on Earth, the aliens - led by the Bird-Kersees - have viewed Halloween as a threat and have set up a barrier at the gates of Hidden Hills to prevent children dressed in costumes from entering the community. The Weavers, on the other hand, are excited about their first Halloween in the suburbs and want to open the gates of the community to celebrate. They do their best to explain the ritual of trick-or-treating to the aliens. Meanwhile, Marty and Debbie's fears are realized when Amber, Max and Abby reject their family costume plans.
Supernatural (9 PM, The CW):
I guess this is the "found footage" episode. Check out a clip at left, and here's more details:
A UNIQUE EPISODE OF SUPERNATURAL - Sam (Jared Padalecki) and Dean (Jensen Ackles) investigate a bizarre murder in a college town. Close on the tail of their suspect, they bust into an apartment to find two dead bodies and a laptop cued up to some disturbing video footage. The footage begins with Brian (guest star Leigh Parker), Mike (guest star Brandon W. Jones) and Kate (guest star Britni Sheridan) hearing about an unusual animal attack in their town and the rest of the story is revealed through their eyes. Sam and Dean become unknowing participants in a unique student film.
Nova ScienceNow (10 PM, PBS):
This time around, "How Smart Can We Get?"
How do you get a genius brain? Is it all in your DNA? Or is it hard work? Is it possible that everyone's brain has untapped genius - just waiting for the right circumstances so it can be unleashed? From a man who can match any date in history (or the future) to its day of the week to a "memory athlete" who can remember strings of hundreds of random numbers, David Pogue meets people stretching the boundaries of what the human mind can do.Viewers will meet researchers who are currently seeking out the neurological roots of genius in Einstein's brain, scientists who are searching for the biological source of intelligence and Sian Beilock, a cognitive psychologist who is discovering how we can overcome fear and pressure and maximize a brain's performance.
American Horror Story: Asylum (10 PM, FX):
I'm willing to bet whatever you were expecting from last week's season premiere, it wasn't what we got. And that's just the opening salvo in the assault on your sanity. This time:
"Tricks and Treats" - An Exorcist is summoned to Briarcliff to help save a troubled farm boy. Sister Jude's darkest secret is revealed.
Also on TV tonight: A new Ninjago: Masters of Spinjitzu on Cartoon Network at 7:30 PM. And an all-new South Park on Comedy Central at 10 PM.
---
Thursday:
The Vampire Diaries (8 PM, The CW):
I'm proposing a brand new drinking game. Every time Stefan says the phrase "emotions are heightened," just grab the biggest, cheapest bottle of bourbon you can find and guzzle as much as you can in one gulp.
BORN TO BE WILD - Connor (guest star Todd Williams) continues his search to uncover the secrets of Mystic Falls and tries to convince Jeremy (Steven R. McQueen) to work with him. With Dr. Fell's (guest star Torrey DeVitto) help, Damon (Ian Somerhalder) and Klaus (Joseph Morgan) question Connor, but the confrontation takes a lethal turn. Trying to keep her new life as normal as possible, Elena (Nina Dobrev) is determined to continue her senior year at Mystic Falls High with support from Matt (Zach Roerig) and Caroline (Candice Accola). Rebekah's (Claire Holt) arrival at school makes it difficult for Elena to control her anger, but she learns that confronting Rebekah can be extremely dangerous. Later, Rebekah realizes how alone she is, and reaches out to April (guest star Grace Phillips). Stefan (Paul Wesley) takes Elena on a thrilling motorcycle ride in an effort to show her that life can still be fun. Tyler (Michael Trevino) gets a surprise visit from Hayley (guest star Phoebe Tonkin, "The Secret Circle"), a werewolf who helped him through the ordeal of breaking his sire-bond to Klaus. Concerned about Elena, as well as his own emotions, Stefan turns to a sympathetic Caroline for advice.
Last Resort (8 PM, ABC):
I'm still really enjoying this show, for the most part, except for the island people. Check out a clip from this week's episode, in which:
"Skeleton Crew" - In an attempt to end the standoff on Sainte Marina, Marcus and Sam enter into tense negotiations with the U.S. Government. Meanwhile, when a critical system fails, Grace must take command of the Colorado on a perilous repair operation.
Big Bang Theory (8 PM, CBS):
Worth mentioning because there's a cameo by astronaut Buzz Aldrin, playing himself. Here's the skinny:
"The Holographic Excitation" - The gang celebrates Halloween at Stuart's comic book store. Meanwhile, Leonard seduces Penny with science. Astronaut Buzz Aldrin makes a cameo appearance as himself.
Person of Interest (9 PM, CBS):
This should be interesting — they've finally gotten the number of someone who may actually not be worth saving.
"Triggerman" - When The Machine gives them the number of a mob enforcer whose life becomes endangered, Reese and Finch must decide whether to intervene or allow karma to balance the scales of justice. Meanwhile, Finch seeks aid from an unlikely source.
Beauty and the Beast (9 PM, The CW):
How much cheesier can this show get? Find out!
CAT AND TESS INVESTIGATE THE VEHICULAR HOMICIDE OF AN IMMIGRATION JUDGE – Iris (Lara Jean Chorostecki), a Bosnian immigrant, is arrested on the suspicion of killing a judge for deporting her brother. Vincent (Jay Ryan) insists that Iris is innocent, so trusting his instincts, Cat (Kristin Kreuk) works behind-the-scenes to uncover the truth. When Cat's actions disrupt the investigation, Joe (Brian White) places her on leave. Nevertheless, she continues on her own to discover that Iris is hiding a family secret, and needs Vincent's help. JT (Austin Basis) is concerned that Vincent risks exposure to Murifield by helping Cat, leading Cat to work out a way to communicate with Vincent without seeking him out.
Misfits (10 PM, Logo):
It's the second season finale, which is also the Christmas special.
Also on TV tonight: There's a new episode of Mad on Cartoon Network at 8, and a new Elementary on CBS at 10.
---
Friday:
Transformers Prime (7 PM, The Hub):
It's the penultimate episode of the season, and it looks like we're ramping up for the big confrontation:
The Autobots and the Decepticons fight on Cybertron as they pursue the Omega Lock.
Tron Uprising (7:30 PM, Disney XD):
It's "Scars, Pt. 1":
Tron's history before the occupation is revealed. Meanwhile, Beck tries to convince Tron to stop his planned revenge against a program named Dyson that was once his friend.
And that's followed by a brand new Motorcity at 8:30 PM.
Mockingbird Lane (8 PM, NBC):
This just seems like one of the biggest missed opportunities on television in years. Seriously. A reimagining of the classic Munsters horror comedy could have been seriously fun. And a brand new show from Bryan "Pushing Daisies" Fuller? Yes please. But Fuller's original concept was too dark and weird for NBC, including Munsters who actually looked like monsters, and the family moving into the "Hobo Murder House" and starting to kill all the neighbors. The show went back to the drawing board, but it sounds as though they never agreed on the right tone for this show, with Fuller and producer/director Bryan Singer reportedly disagreeing. Now NBC is airing the pilot on a Friday night, with no plans for additional episodes unless this "special event" somehow scores huge ratings. Sigh. In any case, here's the official description: