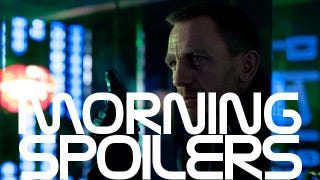 Mad Max: Fury Road is in trouble once again, to the surprise of absolutely nobody. Stars Andrew Lincoln and Norman Reedus drop some Walking Dead knowledge. Check out Robocop's motorcycle in a new set video. And watch a brand new Skyfall trailer, and learn just how much longer we'll be seeing Gwen Stacy in the Amazing Spider-Man films. Plus tons of spoilers for Falling Skies, Person of Interest, and more!
Spoilers from here on out!
Top image from Skyfall.
X-Men: Days of Future Past
Mark Millar, who is now the creative consultant for all of 20th Century Fox's Marvel movies, discusses director Matthew Vaughn's approach to the X-Men: First Class followup. Basically, it's going to be totally bonkers, in the best of ways:
"Vaughn is going for a big sci-fi style thing with X-Men: Days of Future Past. It's X-Men meets The Terminator. You've got robots, you've got time travel, you've got superheroes - it's got everything in one film. Cost-wise it's going to go up, and ambitious-wise it's gone up. But Vaughn can handle it. Vaughn made Kick-Ass for $28 million."
---
Robocop
Here's a set video of Robocop riding his motorcycle. [IGN]

---
Mad Max: Fury Road
In what has to be the least surprising news ever, George Miller's fourth entry in his Mad Max franchise — which already was delayed for years and had to move to Namibia due to various economic and environmental catastrophes — is reportedly at least five days behind schedule and over budget. As such, Warner Bros. is reportedly sending producer Denise di Novi to supervise the film, which stars Tom Hardy and Charlize Theron. While many are seeing this as evidence that the movie is in trouble, I'm honestly quite pleasantly surprised that Miller is only about a week behind schedule, and that the movie simply over budget rather than "significantly" or "colossally" so. By the standards of a George Miller Mad Max movie, I'd say this is actually pretty damn good. [Heat Vision]
---
Amazing Spider-Man 2
We reported a while back that Shailene Woodley was in line to play Mary Jane Watson in the sequel, and now it seems more official. There's also some indications, though, that she'll have a pretty small role in the second movie of the trilogy — and then she'll have a much bigger role in the third film, as the movies move towards the "Death of Gwen Stacy" story that we've all assumed they were going to do. [Heat Vision]