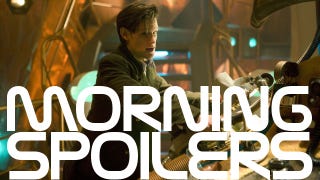 Check out the motherlode of behind-the-scenes Skyfall videos. Glen Mazzara drops plenty more hints for The Walking Dead. Arrow will cram in every last non-superpowered part of the DC Comics universe. Plus Jon M. Chu talks Masters of the Universe!
Spoilers from here on out!
Top image from Doctor Who.
Catching Fire
Here are some photos for the Hunger Games sequel, from the film's Georgia set. The photos give some idea of how the new filming site is handling the transition from the original movie's North Carolina-based locations. Check out the link for some more info on what these sets might end up portraying. [Movies.com]
---
Skyfall
Here's a whopping 20 minutes of behind-the-scenes and B-roll footage for the latest James Bond movie. [Coming Soon]

And here's the latest video production blog, this time focusing on the music for the film. [Coming Soon]

---
Jack the Giant Slayer
X-Men director Bryan Singer's gritty fairy tale story Jack the Giant Killer was originally due to be released this year, and it even released a trailer before unceremoniously being pulled without even so much as a new release date. (Luckily for Singer and company, the even bigger G.I. Joe: Retaliation fiasco happened right around the same time, shifting most of the attention.) Anyway, the movie now has a March 1, 2013 release date and a small title change to Jack the Giant Slayer, so presumably all the movie's problems have now been solved. [IGN]
---
Masters of the Universe
Jon M. Chu, who theoretically is still directing G.I. Joe: Retaliation, discusses his next project that he plans to tackle. Specifically, it's a big-screen adaptation of the old He-Man cartoons, with a script from Expendables 2 co-writer Richard Wenk. Here are Chu's thoughts on the project:
"I was approached about doing a Masters of the Universe movie and while at first I was skeptical. I read the script and I was blown away. I had no idea what to expect but it was such a fresh, UNEXPECTED approach I was immediately intrigued. I never expected to connect on a human level to a MOTU movie but I really plugged in emotionally. That alone, got me excited to see what we could do with the property. MOTU is such a challenging puzzle to make into a movie that works to a contemporary audience but the script seemed to really crack it for me. I think people are really going to be surprised at the rich story we have the opportunity to tell in this world. Where you think MOTU goes left, the script goes right and it was just very clear to me this was something very special."
He also makes it clear that he's not going to feel beholden to the original source 1980s source material, because that would be insane:
I feel like there's a lot of room to crack open the Masters of the Universe story. We are still in our process and I think we have some great seeds planted but making one of these types of movies RIGHT takes a lot of TONAL tightroping so we're just going to play for the next several months. Play with designs, play with the characters, try new things, maybe go too far on some things and pull back. The process is really important to find where the right line is so we can land right on it.
There's still plenty omre at the link. [Celebuzz]
---
Paranormal Activity 4
Pretending for a moment that looking at a sneak peek clip of this film could tell you anything you don't already know from the fact that its title is Paranormal Activity 4... here's a sneak peek clip for Paranormal Activity 4. [Coming Soon]

---
The Dark Knight Returns: Part 2
Here's the trailer for the second half of the epic direct-to-DVD animated adaptation of Frank Miller's seminal Batman story. [Newsarama]

---
Doctor Who
While Neil Gaiman has previously revealed that he is working on another Doctor Who episode, it wasn't 100% clear the episode would actually be made this season, if only because Gaiman's first effort "The Doctor's Wife" was planned for season five but had to be bumped due to its insane budgetary and logistical requirements. Well, the latest issue of Doctor Who Magazine now confirms that his episode will indeed be the twelfth of this current season (not counting the 2012 Christmas Special as part of that tally). Moreover, Steven Moffat is writing episodes six and thirteen, Luther creator Neil Cross is doing episodes seven and nine, longtime Doctor Who and Sherlock writer and guest star Mark Gatiss is handling episodes eight and ten, and "The Curse of the Black Spot" writer Stephen Thompson is doing episode ten. That ordering would tend to suggest the standalone approach will carry over from the first half of the series, since nobody is writing consecutive episodes, although I'm guessing the episodes will interconnect in fiendishly Moffat types of ways. [Den of Geek]