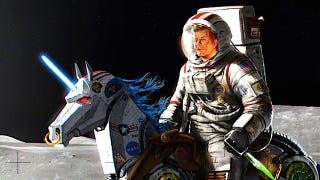 One of the more frustrating aspects of this current election season is the disturbing willingness of both presidential candidates to conveniently set aside meaningful and timely discussions of science.
And it's not as if there isn't a lot to talk about: there's climate change, a public health crisis, a withering economy that could use a science-inspired boost, and a public eager to see a coherent vision for America's future in space.
But it hasn't always been this way. In honor of previous executives who were either scientifically-minded or simply happy to serve as cheerleaders, here are 10 of the most science-friendly presidents in U.S. history.
1. Thomas Jefferson
It's hard to imagine a U.S. president like this today: Thomas Jefferson was an Enlightenment era polymath who spoke five languages and had a keen interest in science (especially archaeology), engineering (he invented a clock that was powered by the Earth's gravitational pull on cannonballs), architecture (he designed his own mansion, Monticello), and philosophy (he was was President of the American Philosophical Society). He also founded the University of Virginia and sponsored the Lewis and Clark Expedition to explore the west.
2. John Quincy Adams
Known as a pre-Civil War era reformer, John Quincy Adams was responsible for modernizing the American economy and building an infrastructure to support it. To that end, he established a uniform system of weights and measures, improved the patent system, facilitated a thorough survey of the country's coasts, and was a very early advocate for science as a way to encourage the spirit of enterprise and invention in the United States. An avid astronomer, he established an astronomical observatory (what is now the U.S. Naval Observatory) and participated in the establishment of the Smithsonian Institution.
3. Abraham Lincoln
Though primarily remembered for the Emancipation Proclamation and the Civil War, Abraham Lincoln also managed to sign a bill that created the National Academy of Sciences. And disillusioned with the backwardness of U.S. farming practices, he enforced scientific techniques and insights onto the agricultural industry. Driven by Malthusian fears of overpopulation and unsustainability, Lincoln saw to it that farmers were educated at government expenses, and that they would be provided with latest intelligence on farming machinery (he even predicted "self-propelled" machines), fertilizers, soil chemistry, and crop management. He is also the only president to hold a patent for his invention of a method to lift boats off sandbars and shoals. And disturbed by the country's reliance on sperm whale oil, he encouraged the development of alternative fuel sources (read more about this episode of history here).