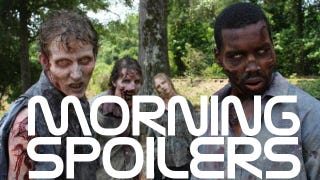 A new name has emerged as the favorite to play Captain America's leading lady, while two genre favorites are in line for supporting roles. Neil Blomkamp's Elysium gets a better release date, but why is that bad news for Robocop?
Spoilers from here on out!
Top image from The Walking Dead.
Iron Man 3
Brian Tyler, who has previously done the music for The Expendables movies, Battle: LA, and the last couple of The Fast and the Furious movies, has announced that he will be composing the score for the third Iron Man movie. [Coming Soon]
---
Captain America: The Winter Soldier
The latest casting rumor is that the female lead is indeeed Peggy Carter's 21st century relation Sharon Carter, but the person in the lead for the role isn't any of the five names previously rumored. Instead, the main contender for the role is reportedly Scott Pilgrim and Abraham Lincoln: Vampire Hunter's Mary Elizabeth Winstead. The other five contenders — Teresa Palmer, Imogen Poots, Emilia Clarke, Jessica Brown-Findley, and Alison Brie — were reportedly due to screen test, all with British accents (Brie is the only American of the bunch, and she's done a passable British accent in previous stuff like The Five Year Engagement). Anyway, if Winstead does take the role, Marvel Studios would reportedly forego screen-testing the other actresses. It's not clear if Winstead would be required to do a British accent for the role, or if they would just make Sharon Carter American — again, assuming that any of this is true.
In further casting news, Marvel is reportedly looking to cast two "physical" male roles, one American and one foreign. The two names linked to these parts so far are Lost's Josh Holloway and Game of Thrones actor Nikolaj Coster-Waldau, with the former presumably up for the American and the latter up for the foreigner. Another name linked to this part of the casting process is Real Steel's Kevin Durand. [Latino Review]
Although the Red Skull didn't definitely die in the last Captain America movie — and hell, he's come back from way worse than that in the comics — actor Hugo Weaving says he doubts the character will return, his standard multi-picture deal notwithstanding. Here's his refreshingly honest assessment of where things stand:
I did that for Captain America. I think the tendency, with those films, would be to probably not bring a villain back. They might for The Avengers, but I didn't think I'd be in Captain America 2 or 3. I don't think Red Skull will be there. And it's not something I would want to do again. I'm glad I did it. I did sign up for a number of pictures and I suppose, contractually, I would be obliged to, if they forced me to, but they wouldn't want to force someone to do it, if they didn't want to. I think I've done my dash with that sort of film.
And if you think that's a bit on the brutally honest side, check out the rest of the interview, in which he says he hasn't yet been asked back for Transformers 4 and explains why he really doesn't care either way. [Collider]
---
Catching Fire
Here's a set photo from Atlanta of star Jennifer Lawrence in one of the more glamorous dresses we're ever likely to see Katniss wearing. This is likely from the character's victory tour. [E! Online]
---
Elysium
District 9 director Neil Blomkamp's hard science fiction epic, in which Matt Damon plays a cyborg freedom fighter and Jodie Foster plays an evil administrator — or something like that, the point is it's going to be awesome — has been moved from its original March 2013 release date to August 9, 2013. That just so happens to be the same week in which District 9 opened back in 2009, and it went on to be the sleeper hit of the summer and score a Best Picture nomination. So, probably a good place to put it. [/Film]
---
Robocop
The Elysium move does, however, mean Robocop is also getting pushed back, as it was originally slated for that August 9 date. The movie has now been pushed back to February 7, 2014, which isn't generally thought of as a time to launch major blockbusters. Which, considering all the reports that the movie is kind of a total shambles, is not exactly encouraging. [/Film]
---
The World's End
Edgar Wright, Simon Pegg, and Nick Frost's epic, apocalyptic conclusion to the loose trilogy started by Shaun of the Dead and Hot Fuzz has this new poster and an official release date: October 25, 2013. [Coming Soon]
---
Noah
Here's a set photo of the completely real, mostly non-CGI ark used in Darren Aronofsky's big-budget biblical reimagining. [Vulture]
---
Carrie
Following yesterday's release of the first teaser trailer for the Chloe Moretz and Julianne Moore starring remake, here's a new poster. [MTV Movies Blog]