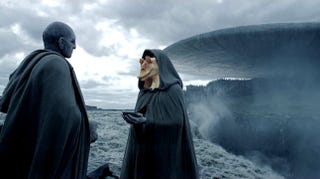 Now that Prometheus is out on DVD, we're all rediscovering Ridley Scott's long-awaited return to science fiction. Many people were disappointed with Scott's comeback — but we should have known it would never quite live up to our hopes. Science fiction and fantasy are full of cases of creators who returned to their most famous works after a decade, or even decades, away. Sometimes, these delayed sequels or prequels are terrific, but they're seldom quite the same as the originals.
Here's our list of great science fiction and fantasy creators who returned to the works that made them famous after a long delay, of at least a decade.
Ridley Scott took 33 years to come back to the universe of Alien, with the don't-call-it-a-prequel movie Prometheus. He apparently enjoyed the experience so much, he's going to make another Prometheus film, plus a sequel to his other great science fiction movie, Blade Runner.
Isaac Asimov wrote two books in his Elijah Bailey robot detective series in the 1950s, and then paused until the mid-1980s, before writing two more books in the series. Likewise, he wrote the original Foundation trilogy in the early 1950s, and then came back to write more Foundation novels in the 1980s. Also, towards the very end of his career, he expanded some of his very earliest short stories into novels. As we write here, there's a widespread perception that "Asimov's later additions just don't have quite the vitality and verve that mark the original Foundation Trilogy."