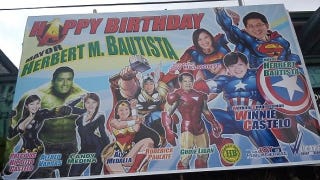 Elections tend to be a surreal time, what with motormouthed candidates perpetually promising a chicken in every underfunded classroom and gasoline pumps that shoot champagne instead of petrol. Here are eight times politicians channeled the realms of science fiction, horror, and fantasy for the express purpose of confusing the (already perplexed) electorate even further.
1. The space marine who ran for city council
In 2011, comic book store owner and Spokane City Council candidate John Waite campaigned for public office while occasionally dressed as a Starship Troopers-esque space marine from the popular science fiction computer game Starcraft. Waite didn't win, leaving his presumed campaign platform of "more co-ed showering scenes" sadly unfulfilled.
2. Christopher Knight campaigns with a lightsaber
In 2006, filmmaker Christopher Knight ran for the Rockingham County, North Carolina Board of Education while wielding a Jedi's chosen weapon and hanging out uncomfortably in the deserts of Tatooine. Despite the sizable media attention this ad attracted, Knight's Jedi mind tricks failed to persuade voters.
3. Joe Manchin versus a TIE fighter
Not to be outdone by Christopher Knight, in 2010, Democratic West Virginia governor Joe Manchin ran against John Raese with this Microsoft Paint-like masterpiece. The ad culminates with Manchin destroying a crudely animated, hummingbird-sized TIE fighter with rifle. (He won the election, incidentally.) Here are more of his low-budget campaign spots.