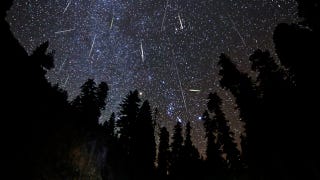 The Orionid meteor shower — one of the year's most spectacular natural light shows — is upon us. This weekend, Earth will plow through a dense stream of celestial debris given off by Halley's Comet. These fragments of Halley will collide with the planet's atmosphere at speeds approaching 150,000 miles per hour, setting the night ablaze as they streak and explode across the pre-dawn skies of Saturday, October 20th and Sunday, October 21st.
Astronomers are predicting that Sunday's shower, in particular, will be one of the most impressive of 2012. Here's everything you need to know to spot as many meteors as possible.
Up top: The 2011 Orionid Meteor Shower at its peak, photographed by astrophotographer Brad Goldpaint near Mount Shasta, CA. See the full image below.
Avoid Light Like the Plague
Mike Brown (the astronomer who killed Pluto) likes to say that the Moon is his nemesis, because it washes out his view of celestial bodies in the night sky. And while you may not agree with Pluto's demotion, you'd be wise to take Brown's dictum to heart; when you're looking for meteors, the Moon is your enemy.
Fortunately, the Moon isn't expected to be much of an issue at all this weekend. Not only will it be a waxing crescent (just five days past-new), it will also be entirely absent from the pre-dawn sky. No Moon, of course, means no moonlight to wash out the gleam of meteors streaking overhead.
But city lights, street lights, house lights, flashlights, any lights can be just as bad. Your surroundings will be giving off tons of the stuff, as will your personal items — so don't blow your vision by checking your indiglo watch out of habit and for god's sake don't look at your phone.