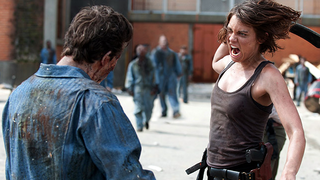 Last season, the survivors of The Walking Dead were haunted by two types of groans. First, there were the groans of the undead. These vocal burbles and cadaverous farts traveled far on those Georgia night breezes, bedeviling hero Rick Grimes as he attempted to zzz the Zzz's of the Innocent upon his lumpy Pillow of Moral Compromises.
But there was a much more dangerous sibilation in the distance. These were the groans of the audience, who were growing restless with the survivors' adventures at the One-Zombie-Per-Episode Corral and the cast's tendency to behave with the intelligence of single-animation-celed extras in a Scooby-Doo cartoon.
Nobody expected "Road Warrior boomerang child" levels of post-apocalyptic competence from any of the survivors, except for Daryl Dixon, because he's destined to grow up to become that child. But it got to the point where certain cast members were being distilled into internet memes — see Wanderlust Carl, Nonexistent T-Dog, and "Everything I Do Is A Poor Decision" Lori.