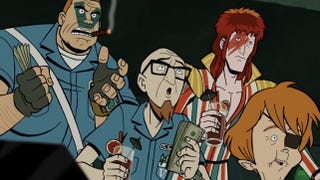 At this year's New York Comic-Con, we had the opportunity to sit down with Venture Bros. brain trust Jackson Publick and Doc Hammer to discuss their upcoming Halloween special and fifth season (which hits in 2013). Here are nine assorted facts we learned about the Adult Swim, purposefully arranged in no particular order.
1. Is another Venture Bros. soundtrack in the works? Mayhaps.
Jackson Publick: We would love another version of the soundtrack. J.G. Thirlwell would love to do another version of the soundtrack, but he's trying some darnedest to try to work something out. I'll put in a request for the Orpheus theme. Certainly a medley of favorite themes would be good. That's never been a whole song. It's just a "DUNHHHHH."

Doc Hammer: It's good to have if you want to [pretend to be] Doctor Orpheus. If you want to make mundane information sound great!
2. With regards to the show's televisual absence, Jackson Publick noted that "nobody counts Jacket as an episode" and "you can expect [the new season] to start exactly where it left off." He also elaborated on the episode count.