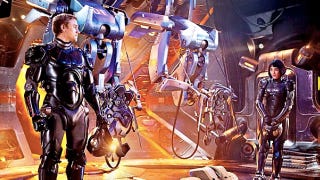 In the upcoming giant-monsters-versus-giant-robots film Pacific Rim, the audience is tossed into the slugfest years after it's been raging. But to flesh out this grimy world where the human race fights for its own survival on the daily, the minds behind Pacific Rim are collaborating on a graphic novel prequel.
And at New York Comic Con, io9 spoke exclusively with Pacific Rim director Guillermo del Toro and screenwriter Travis Beacham about their love letter to kaiju cinema.
Guillermo adapted his previous work on The Strain to comics over with Dark Horse — what was the process here to bring Pacific Rim to comics?