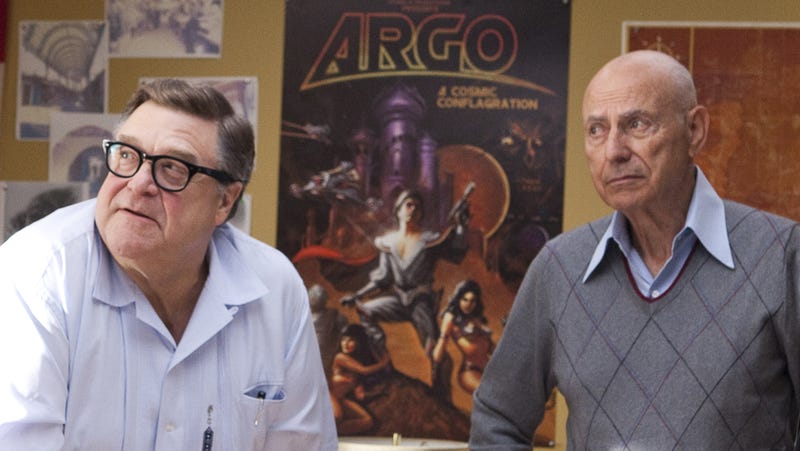 Ben Affleck's nearly perfect new movie Argo plays with contrasts quite a lot. Again and again, the fake space opera film that the CIA is creating in Affleck's film is juxtaposed with depressing real-life events, like the Iranian hostage crisis and America's Carter-era malaise. Affleck takes the then-brand new myth of Star Wars and puts it alongside the slowly tarnishing myth of American invulnerability.
And in the process, Affleck shows one reason why Star Wars was like a burst of Force energy to the American soul. Minor spoilers ahead...
As a historical film, Argo is pretty much flawless. Affleck does a great job of transporting you back to the world of 1979 and 1980, when Vietnam still sat heavy on America's mind. You can practically smell the unleaded gasoline and feel the threads of the polyester clothing. Affleck's script does a great job of immersing you in the context of the Iranian revolution, delivering a lot of important backstory about the Shah of Iran that many people are probably hearing for the first time: the Iranians had a democratically elected prime minister in the early 1950s, who wanted to take the Iranian oil industry away from the Americans and Brits and give it to the Iranian people. So we mounted a bloody coup and installed a brutal dictator, who tortured the shit out of his people. The hostage crisis was payback for our Eisenhower-era shenanigans.
That original sin underlies everything that happens in this movie's story, and it keeps being brought up in different ways. The ugliness of American power, our hubris, led to a situation that we couldn't just overpower our way out of: 52 American embassy staff were held hostage for 444 days, until finally an agreement was reached.
And the story of Argo is based on a real operation, that was kept classified until 1997. Six Americans escaped from the embassy when it was attacked by the Iranians, and went and hid out in the Canadian embassy. The State Department and the CIA mooted various schemes to get them out, including disguising them as visiting English teachers or agriculture experts. But instead, exfiltration expert Tony Mendez (played by Affleck in the film) came up with a wild idea: Pretend to be a Canadian film crew making a cheesy science fiction movie, and considering Tehran as a location.
The actual story of Mendez and his fake movie is considerably simplified for Affleck's film. There's no mention that Mendez's fake movie was based on Roger Zelazny's classic novel Lord of Light, or that its original producers had tried to film at an elaborate location that would then be turned into a science fiction theme park. Instead, Affleck reimagines the fake science fiction movie as something purer and simpler: a Star Wars knock-off, one of many that were created in the late 1970s and early 1980s.