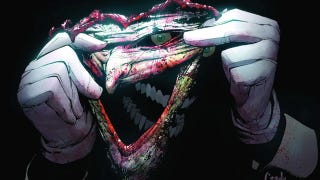 On the opening day of New York Comic Con, Batman and Swamp Thing scribe Scott Snyder caught up with io9 to discuss Death of a Family, a new story about The Joker exacting revenge on the Dark Knight's pals. (Also, The Joker's face has been completely carved off and affixed to his head with a belt. He really must stop stealing Carrot Top's act.)
First off, Death of a Family debuted yesterday in Batman. This crossover arc — which runs in books like Catwoman and Nightwing — sees The Joker launching a calculated criminal spree against all members of the Bat-Family. How did you coordinate Death of a Family with all these creative teams?
Scott Snyder: I like doing this the same way I did Night of the Owls. I come up with the story and halfway through I realized that The Joker was going to target the Bat-Family in very intimate and terrifying ways. The two options are A.) I could write those characters into Batman; or B.) knowing that those books' writers can write those characters better than I ever could, let them go crazy and tie in if they like. And luckily, the writers — like Gail Simone, who I admire and grew up reading — were all in.