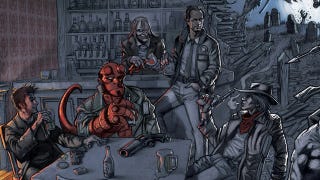 For this year's New York Comic Con, Dark Horse Comics Editor-in-Chief Scott Allie and artist Juan Ferreyra collaborated on a jam piece depicting various Dark Horse horror characters — such as Hellboy, The Goon, and the vampires from The Strain — tippling (booze and blood) at a creepy bar. Here's the artistic process that went into such a supernatural rager.
Scott Allie: When we started to plan this fall's horror campaign, back in March, I got the idea for an image featuring all the characters together in a bar. It was inspired in part by the promo photography for American Horror Story's first season, and the painting Las Meninas by Diego Velasquez. I did a rough sketch on the back of a script page from Juan's book Colder.
I thought just doing a bar was kind of dull, so I decided to shred the bar - [comic artist] Dave Stewart had been to Missouri after a hurricane a couple years ago and showed me a ton of photos, which made a big impression. I decided to have a graveyard in the background to get a more on-the-nose horror vibe, and then thought pulling it into the foreground would be cool. Does it make sense that the bar was apparently built on top of gravestones? No, but it gave it the surreal vibe I wanted to get across. It also doesn't make sense that Edgar Allan Poe and Lance Henriksen's character from To Hell You Ride would be in the same place at the same time, so reinforcing that unreality seemed like a good idea.