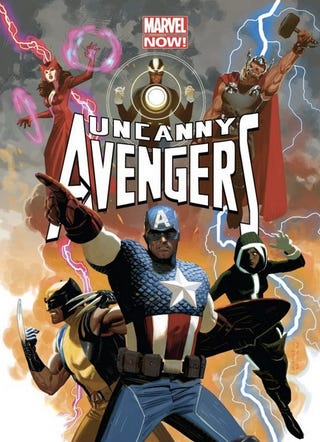 Which debuts hit comic stores tomorrow? First off, the Rick Remender-penned series Uncanny Avengers kicks off, with its first issue combining mutants and Avengers under the aegis of Captain America. The synopsis:
Captain America begins his quest to create a sanctioned Avengers unit comprised of Avengers and X-Men, humans and mutants working together — so why is Professor Xavier's dream more at risk than ever?
Other new issues out this week include the anime-inspired DC book Ame-Comi Girls, the Kieron-Gillen-penned AVX: Consequences miniseries, and Steve Niles' apocalyptic vampires-versus-robots book Transfusion (preview here).