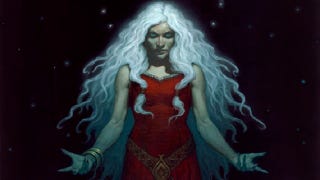 October brings an amazing horde of great books, to keep you reading way into the night. Lois Lowry concludes the Giver saga, Justin Cronin continues the Passage trilogy, and Iain M. Banks has a new story of the Culture. Plus Catherynne M. Valente's latest Fairyland novel, and Cory Doctorow's follow-up to Little Brother. And some righteous smut.
Here are 16 books you absolutely should not ignore in October!
Krampus: The Yule Lord by Brom (Harper Voyager)
We featured a preview of this book back in February, and now it's finally here. The creator of The Child Thief, is back — and this time he's taking on the Christmas Devil. Are you ready for a studly, Nordic Santa Claus, and his scary/sexy wife (pictured above)?