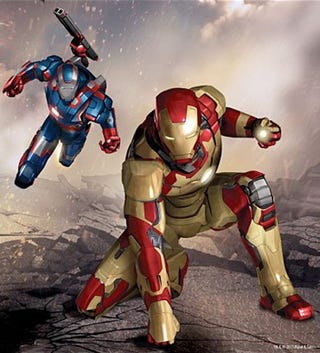 Looper opens in the United States today, but Chinese audiences will be seeing a somewhat different cut of the film. Director Rian Johnson filmed a key sequence in Shanghai, because Looper is a U.S.-Chinese co-production — and Chinese audiences will see a lot more of that Shanghai footage than we will. (In a similar fashion, Men in Black 3's "Chinese restaurant" scene was heavily cut when that film was shown in China.)
And now, people are wondering if something similar could happen with Iron Man 3, which is similarly a U.S.-China co-production. Except that with Iron Man 3, it could be a more fundamental reworking of the film for Chinese audiences. That's the speculation, anyway.
As we reported a while back, part of the deal for Iron Man 3 to get support from the Chinese government was to do some filming in China with the main cast — and director Shane Black seemed to be trying to renege on that part of the agreement, saying "We're not really going to China." But since then, Disney/Marvel has reportedly corrected the director, saying that they do plan to film some key scenes in China. Meanwhile, there were plans to have Andy Lau play an important supporting role in the film, using China's science and technology to help Tony Stark — but Lau bailed on the project.
But the bigger problem is the notion that the Mandarin, whom director Shane Black has called a "racist caricature," could be the film's villain. The footage we saw at San Diego Comic Con of Ben Kingsley's villain certainly made him look like a key baddie, and he certainly looked Mandarin-tastic. The other day, Latino Review reported on new signs that the Ten Rings terrorist organization from the first Iron Man movie would be back — and they've always been assumed to be linked to the Mandarin, who wears ten magical rings.