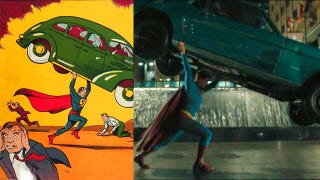 Before Captain America punched fake Hitler as Chris Evans, Cap punched him on his own comic book cover in 1941. Colin Farrell stabbing Jennifer Garner in Daredevil? Frank Miller drew that first. Many film-makers today go to great lengths to pay tribute to the original comics that gave us these amazing characters — the point of restaging scenes from the comics.
We searched through comic-book movies looking for the best reconstructions of original panels. And here they are — the most iconic comics artwork that got translated to film (and television.)
Daredevil
There are plenty of Joe Quesada inspired Daredevil moments in this unbalanced retelling of the blind superhero. But it was Frank Miller's Elektra death scene come to life that stayed with us more than Ben Affleck's ridiculous hair. For a movie that didn't spend too much time copying the comics, this moment was surprisingly similar, the back of Elektra's costume even sprouted a bloodless tent, signifying she'd been stabbed all the way through just like in the panel. Allowing for a PG rating, and a nice little nod to the creator.
Scott Pilgrim
Bryan Lee O'Malley's black and white video game-inspired comic came into bold colors thanks to Edgar Wright's movie. In fact the director even went as far to include comic book style captions action notes right along side the action. But perhaps the most memorable moment was when Scott literally moves a level up in life by admitting his love to Ramona, thus earning him the power of love.

Image via flcarneiro

Captain America
Even though Captain America didn't officially punch the "real" Hitler in the Marvel movie, the superhero certainly reenacted the campy Jack Kirby cover over and over again in his Star Spangled Man act. Plus, the studio released this gorgeous vintage poster that also depicts the American boy smacking the crap out the Führer.