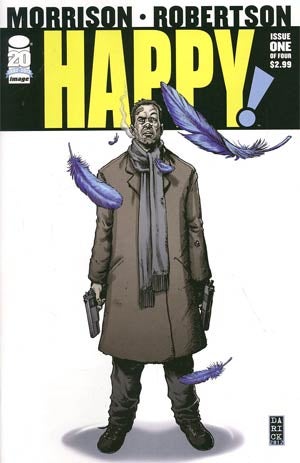 What's in ye olde comic shoppe tomorrow? First off, we have Grant Morrison and Darick Robertson's new miniseries for Image Comics, Happy, which promises some equine idiosyncrasies:
Meet Nick Sax — a corrupt, intoxicated ex-cop turned hitman, adrift in a stinking twilight world of casual murder, soulless sex, eczema and betrayal. With a hit gone wrong, a bullet in his side, the cops and the mob on his tail, and a monstrous child killer in a Santa suit on the loose, Nick and his world will be changed forever this Christmas. By a tiny blue horse called Happy…
Other debuts this week include DC Comics' Batman spinoff series Talon ("Meet Calvin Rose, the only Talon ever to escape the grasp of the Court of Owls. This former assassin just wants to live a normal life, but that's impossible, since he's being hunted by his former masters!") and the publisher's rejiggering of Rose & Thorn for National Comics. ("Can a teenage girl with a dark secret, readjusting to life after being institutionalized, learn how to live again?")
For returning series, there are new issues of Star Trek/Doctor Who, Punisher, Wolverine and the X-Men, Adventure Time, Angel and Faith, The Goon, Mind MGMT, Batman Incorporated, Before Watchmen: Ozymandias (preview here), Justice League Dark, and Mars Attacks (preview here).