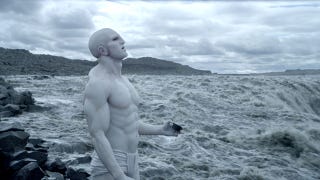 In the opening scene of Ridley Scott's Prometheus, an alien Engineer is seen seeding the Earth with life — an interesting suggestion as to how life emerged on this planet.
It would now appear, however, that the film got this backwards: A newly discovered gravitational process called "weak transfer" indicates that the Earth was once capable of sending slow-moving, microbe-carrying rocks out of the solar system. As a result, astrobiologists are now wondering if our planet has spawned life elsewhere.
Escape velocity
Proponents of the panspermia hypothesis have spent most of their time trying to understand how an incoming object may have given rise to life on Earth. The basic idea is that a microbe-laden meteorite landed here billions of years ago, resulting in a kind of extraterrestrial genesis.