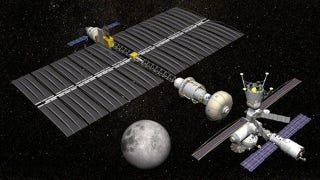 The Orlando Sentinel is reporting that NASA wants to build a space station about 277,000 miles from Earth, placing it well beyond the orbit of the Moon. Called the "Gateway Spacecraft," the outpost would support a small astronaut crew and serve as a staging area for future missions to the Moon, Mars, and potentially beyond.
To save on costs, NASA is hoping to construct the spacecraft with parts left over from the International Space Station, as well as hardware provided by Russia and Italy.
It would be positioned at the EML-2, or Earth-Moon Lagrange Point 2, a location about 38,000 miles from the moon. At this spot, the combined gravities of the Earth and moon create an equilibrium point, that would allow NASA engineers to position the spacecraft with a minimal amount of power required to keep it in place.
In terms of getting there, NASA is likely going to use the Orion-SLS rocket currently under development. If all goes according to plan, the rocket will have its inaugural launch in 2017, with construction on the Gateway starting in 2019.