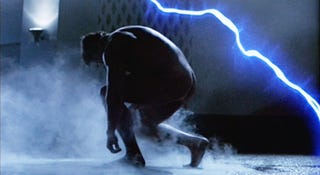 This weekend belongs to time travel. We're finally seeing the long-awaited release of Looper, the Terminator-inspired gangster movie. And Steven Moffat is writing what I'm guessing will be another timey-wimey episode of Doctor Who. So now's a great moment to think about time travel, and what makes it especially cool.
To a lot of people, time travel stories are cool when they're clever — when all the pieces fit together at the end with a delightful "click." To me, though, time travel stories are cool when they're messy. Because life is messy, and stories in general are cooler when they're rough around the edges.
I've been thinking about how to say this for a long time now — I love time travel stories, but I don't love the kind of time travel stories where everything falls into place and you realize that the rubber duckie at the beginning of the story was actually put there by the guy at the end of the story. It's easy to be superficially clever with that kind of story, and to make the audience feel clever — but oftentimes, that sort of storytelling is not clever at all, it's just a mechanical challenge to put the pieces in the right place.
One of the all-time classic time travel stories is Robert A. Heinlein's "By His Bootstraps," in which everything is a closed loop. The main character — spoiler alert — turns out to be almost all the people he meets, and the whole thing is just this guy going through the motions of acting out a series of fixed events that lead to him becoming the ruler in the future. This is pretty much the classic "everything fits together" story, and it's the one that everybody else is imitating, consciously or unconsciously, when they do this sort of thing.
I always sort of feel as though Heinlein did it first and best, and there's no point in copying that particular story — plus it's the same sort of "aha" cleverness that you get from a story in which a man and a woman wind up on a deserted planet, and then you learn their names are Adam and Eve. Probably whoever came up with that idea first was also being super clever and original, too.
Then there's the variation on that type of story — where it appears as though you can change history, but at the end we still learn that it was all a closed loop. This happens at the end of David Gerrold's otherwise-fantastic novel The Man Who Folded Himself, where Gerrold feels the need to tie everything off with a bow by having the main character give himself the time machine. Likewise, Moffat's best-known "timey wimey" story, "Blink," ends with Sally Sparrow giving the Doctor a detailed set of instructions, so that it turns out the Doctor was just Sally's puppet throughout the entire story and his apparent ingenuity was just following a detailed script.
Your mileage probably does vary somewhat, but I often find these sorts of "tying everything off with a bow" endings actually cheapen the stories they follow.
Four types of time travel
So to be clear, there are a few different theories as to how time travel could work:
1) You can travel back but you can't change anything. If you try to kill Hitler, the gun won't go off. If you try to make even a small change in established history, you'll fail. This version of time travel always seems dangerously close to magic, like the notion that the physical laws of the universe would fail to operate, to prevent you from strangling Julius Caesar. It's also hard to dramatize time travel in which literally no effect is possible.
2) You can travel back, but you always did. In other words, you're predestined to travel back in time, at which point nobody has any agency and the story becomes just a set of pre-ordained events playing themselves out. (This is sort of similar to the Heinlein story, although there it's not clear if the main character can choose to deviate and just doesn't.) A lot of people seem to love this version of time travel stories — either because they feel it's more plausible, or because they feel like it's more clever. Lost notably played with this notion in its penultimate season, where Jack and the others were stuck in the 1970s and (apparently) already a part of established events.
3) You can change the past, and you'll instantly feel the alteration. AKA the Back to the Future rule. The moment Marty McFly inadvertently prevents his parents from getting together, he starts to fade from existence — and unless he ensures their coitus with a display of electric guitar bravado, he'll cease to have existed. We don't see this version of time travel often enough, which is too bad.
4) You can change the past, but you'll just create a brand new timeline. This mostly seems to be how Doctor Who plays it, despite the notion of "fixed points" that you can't change. Star Trek has also toyed with this notion — although Trek has done every possible theory of time travel multiple times. In this version, the time traveler becomes, in effect, a visitor from the "original" timeline, and the only person who can remember the pre-alteration version of history.