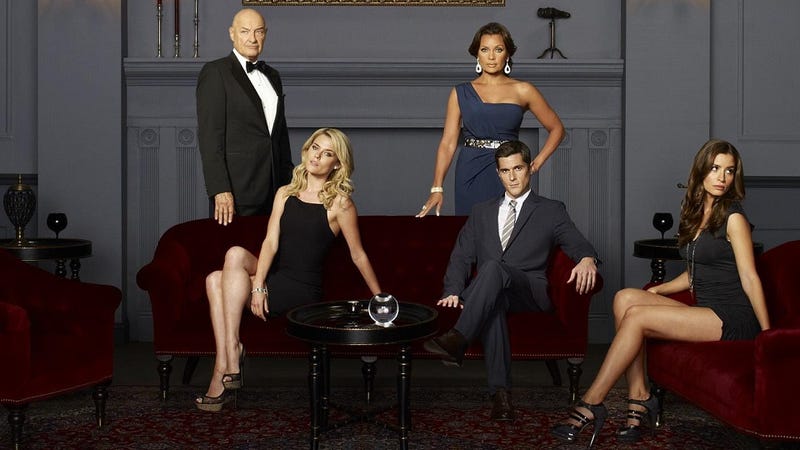 This is an absolutely massive week of television. There are a ton of new shows premiering, including Last Resort and the new Teenage Mutant Ninja Turtles. But also, a ton of shows are coming back, including Fringe, Star Wars: The Clone Wars, Person of Interest, and DC Nation. There's also a totally separate Star Wars special!
Check out your first glimpse of Guy Gardner in Green Lantern: The Animated Series, plus brand new sneak peek clips from Fringe, Star Wars, Warehouse 13, Revolution, Once Upon a Time, TMNT, Avengers, Big Bang Theory and a ton of other shows!
Top image: 666 Park Avenue
Today:
Alphas (8 PM, Syfy):
I haven't been able to recap this show, what with both Warehouse 13 and Revolution also on Monday nights. But I'm still enjoying the heck out of this season, and last week's episode about Rosen dealing with his traitor daughter was way more powerful than I'd expected. This week:
The true intentions of apparent-turncoat Hicks are revealed after he begins working for Parish, who is plotting to cause a blackout of epic proportions.
Who thinks that Hicks has really gone over to the other side? Looks like an obvious ruse.
Warehouse 13 (9 PM, Syfy):
The stakes are rising! Plus we get to see Mrs. Frederic and Steve Jinks teaming up — possibly for the first time since they had that possibly fake disagreement over torture last season.
Brother Adrian resorts to extreme measures, sending deadly artifacts to the agents' loved ones, to coerce Artie into reversing the Astrolabe's effects. Meanwhile, Mrs. Frederic and Steve uncover something shocking during a trip to the Vatican.
Revolution (10 PM, NBC):
Opinion seems sharply divided over the season opener — but we're still giving this show a chance at winning us over. The second episode of any show is arguably more important than the first, so this will be interesting. Here's what's up:
In order to rescue Danny (Graham Rogers), Miles (Billy Burke) knows he and the gang will need help. Thus, the search begins for Nora (Daniella Alonso), a rebel fighter battling against the Militia. Meanwhile, Aaron (Zak Orth) confides in Maggie (Anna Lise Phillips) and Danny lays witness to what Captain Neville (Giancarlo Esposito) is capable of.
Check out a clip from the new episode!
Also on TV tonight: The season opener of Castle, a show which stars Nathan Fillion and frequently includes science fiction shout-outs and improbable crime-fighting tech. That's on ABC at 10.
---
Tuesday:
Dragons: Riders of Berk (7:30 PM, Cartoon Network):
Check out a brand new clip from "Alvin and the Outcasts," which thankfully isn't about singing chipmunks. Instead, Alvin and his gang invade Berk, which is vulnerable after losing its armor and dragons.
Also on TV tonight: At 7 PM, Cartoon Network has a brand new Amazing World of Gumball. And there's a new Mysteries at the Museum on Travel at 9 PM.
---
Wednesday:
LEGO Star Wars: The Empire Strikes Out (8 PM, Cartoon Network):
Yes, apparently the "empire strikes out" joke is so old, it's new again. This is the second LEGO Star Wars special, and this time around, the trailer has a definite "trying too hard to be funny" vibe. Is there really anywhere left to go with Star Wars spoofs, after Robot Chicken and Family Guy have both had a crack recently — even with a version aimed at kids? In any case, here's what's in store this time around:
In LEGO Star Wars: The Empire Strikes Out, premiering Wednesday, September 26 at 8:00 p.m. (ET/PT), a new Imperial threat has been detected and the good guys have to act fast. But Jedi-in-training Luke discovers that instant fame as a "Death-Star-Blower-Upper" can be a double-edged lightsaber, as his secret mission to Naboo is thwarted by those most unstoppable of foes — crazed fans! (It's hard being the galaxy's New Hope.) Meanwhile, Darth Vader sees his day go from bad to worse when his relationship with the Emperor is imperiled by the unexpected arrival of Darth Maul. Luke and Vader's quests to prove themselves lead them on a collision course with each other (literally) and their destiny.
The Neighbors (9:30 PM, ABC):
What could be less funny than yet another Star Wars spoof? Oh, wait. Here you go. Like we said the other day, this is a pretty horrendously unfunny sitcom which takes suburban family jokes and "aliens stranded on Earth" humor and mashes them up, for a double dose of unhumor. Here's the skinny: