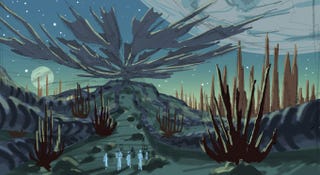 The epistolary novel was one of the greatest forms in literature. Popular during the 18th century, this form basically consisted of people writing long, long letters to each other, narrating their lives. One of the most famous epistolary novels of all time is Clarissa by Samuel Richardson — which many people consider one of the greatest novels in English.
Technological change killed the epistolary novel. Can more technological changes bring it back?
Top image: Star Wars "Rugosa" concept art, via Wookieepedia.
Update: On Twitter, Paul Weimer just pointed out that Dracula is one of the great epistolary novels, something I'd forgotten since it's been so long since I looked at it.