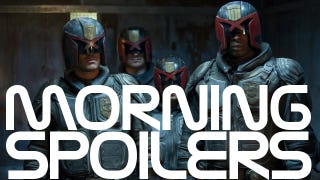 The return of a major Marvel villain is confirmed. Check out multiple endings to the new Hobbit trailer. James Cameron reveals a possible new direction for the Avatar films. Plus Doctor Who, Once Upon a Time, Revolution, and more!
Top image from Dredd.
The Avengers 2
Joss Whedon gives his most in-depth explanation yet as to why he decided to return as writer and director for the Avengers sequel:
There's a business aspect to it and I would be disingenuous not to say that, but the question for me is, Do I have another story to tell about these people? So we worked on the business side of it and I didn't think it was going to happen — I was like 'I'm never going to do this again.' But once they worked on the business aspect of it I thought that seems fair and cool, so, the question was, Do I have another thing to say? I was in London and I went to a pub and had some fish and chips and a pint and started writing in my notebook. I'm writing if I was going to do this what would I say and 40 minutes later I filled the notebook. So I text my agent and said to make the deal. I'm so in love with that universe and the characters and the way they were played and I have so much more I want to do with them. I know I can't match the success of the first one but I can try to make a better film and that's what I'm excited about, that's the new room of fear I'm entering now.
[FastCoCreate via First Showing]
Now head onto our Guardians of the Galaxy item for an update on both that and The Avengers 2...
---
Guardians of the Galaxy
So then, the big news is that Jim Starlin, who created Thanos and holds some of the rights to his use, has reportedly revealed that he has signed off on a deal for Thanos to appear in both Guardians of the Galaxy and The Avengers 2. That's nothing we didn't more or less already know, but it's still good to hear confirmed. [Cosmic Book News]
---
Looper
Here's a pair of international posters. [Coming Soon]
---
Avatar 2 and 3
James Cameron says there will likely be an expanded role for Chinese actors in the Avatar sequels, explained with his usual mix of visionary forward thinking and baldly cynical calculation:
"Within five years, China could easily be as big a gross-revenue market for film as North America, and there are very specific economic incentives for having both Chinese content and Chinese co-production. We are already funded on Avatar 2 and 3, but if we qualify as a co-production, there might be some incentives in the percentage of revenue we can take out of China. We are running the numbers to see if that makes sense. For Avatar, we can certainly use Chinese actors as performance capture actors because any accent issues will hide within the Na'vi accent. So we can have Chinese Na'vi; [and in the live-action sequences] we can also have Chinese actors who speak English in the film. We are projecting a future in Avatar, and if you project that future out, it is logical that there would be a number of Chinese amongst the contingent on Pandora."
---
Dredd
Screenwriter Alex Garland explains his approach to the material and why star Karl Urban was so perfect:
Every detail was important; every single one. From his helmet to his suit to the way he walked to the look of Mega-City One to the way that we handled the Slo-Mo drug…everything mattered to us. It was all stuff that mattered to us as filmmakers and fans, and ultimately, it was all about how to best serve the character of Dredd. He's not going to be the guy who finds redemption in the end, and he's not going to be guy who gets the girl; he's just a tough bastard, and that purity of character is what has made the character of Dredd endure over the years... Karl really embodied that character, and because he'd been a lifelong fan, too, he understood Dredd in a very deep way, maybe even deeper than I did. But we were always in constant communication throughout production about the script, Dredd and what his performance should be. Karl had a lot of ideas, including cutting Dredd's dialogue, and I totally got it — it was more true to the character, so I embraced that. We were just so in sync about how to approach Dredd, and I don't think anyone but Karl could have worn the helmet.
And here's Urban himself discussing the relationship between Dredd and rookie Judge Anderson:
It feels weird to say this about a movie this gritty, but the heart of Dredd is the relationship between Dredd and Anderson. That relationship is so central to the arc of my character throughout this story. It's really about two people coming together who don't like each other, and even by the end it's not really about them liking each other either; it's about that bond they forge while going through all of this that makes Dredd see things a bit differently than he did at the beginning of the story.

By his rules Anderson fails Dredd's assessment, but in reality she really passes it because she survives the ordeal by using her abilities and he respects her for that. And I think in a way that Anderson respects him for walking the line he must walk as Judge - having to draw those lines and take emotions out of the job - so they end up with an unspoken respect and admiration between them despite their differences. I think their relationship is so interesting and would love to see where that could go.
Check out both links for more from Garland and Urban. [Dread Central]
---
The Hobbit
The new trailer for The Hobbit: An Unexpected Journey, the first of Peter Jackson's trilogy of Hobbit movies, apparently features five different endings, depending on which version you watch. Here's a video that helpfully compiles all the different endings floating around. [First Showing]