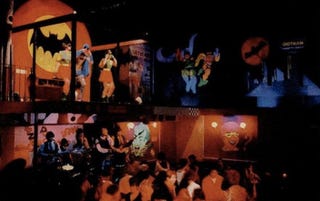 Since the dawn of humanity, our species has been assiduously researching ways to party hard. And every now and then, this impulse to rage like banshees unchained intersects seamlessly with our geekier proclivities. Behold six wonderful nerd soirées that were almost stranger than fiction.
6. Wayne Manor Nightclub
In the mid-1960s, this Batman-themed nightclub (above) raged just outside of San Francisco. Sly and The Family Stone were house regulars and the whole joint was done up in pure DC Comics camp. As Life magazine said of this club in 1966:
The hottest place in the San Francisco suburb of Sunnyvale is Wayne Manor, named after Batman's straight self, Bruce Wayne. At the Manor, the Dynamic Duo of Batman and Robin are painted in throbbing colors on the walls, and villains cackle in fluorescents. Behind a plate-glass screen girls dressed like Robin lead the crowd in the Batusi. Batman sells tickets at the front door, the maitre d' is the Joker, and drinks are served by Wonder Woman.
5. The Predator 2 Dance-Off
On the set of Predator 2 in the early 1990s, stunt performer, Sesame Street puppeteer, and hip-hop dancer Lionel Douglass choreographed a thrilling routine with other actors in Yautja costumes. In a better world, there'd be a nightclub named Sexual Tyrannosaurus where this genus of sensuous happens every night.
4. The 1978 Science Fiction Film Awards
In January 1978, perhaps the greatest musical performance ever committed to the small screen aired. Note the superimposed graphics on the broadcast. I can't imagine the live performance was blessed with those, so the in-house audience was simply witnessing a master pugilist waxing weird on a stool.