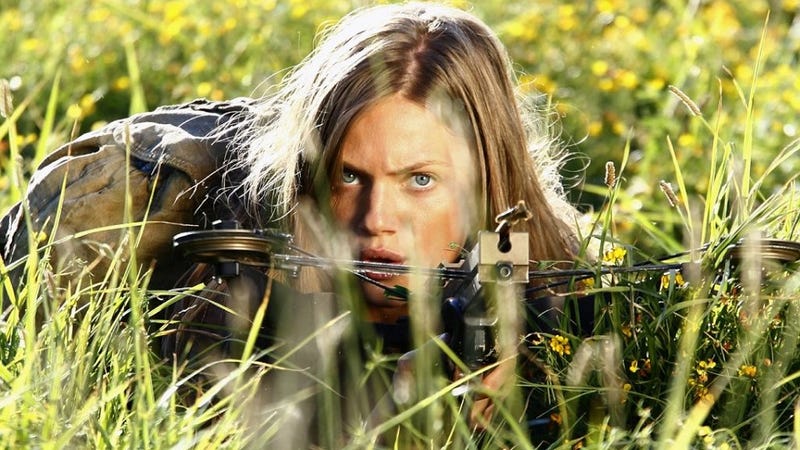 This week's television includes the premieres of three shows, including Eric Kripke's Revolution, in which all the technology fails. Except for hairstyling technology, which never fails. But that's not all! Also, there's a documentary about how NASA became the first Martian music label. And Dylan Hunt himself, Kevin Sorbo, tells the story of how he was haunted by a real-life ghost.
Check out all the details — and clips — from this week's TV below.
Today:
Phineas & Ferb (7:15 PM, Disney XD):
Randomly appearing on Monday instead of Friday.
"What'd I Miss?" - Phineas and the gang introduce Ferb and Perry to their newest project - training domesticated squirrels to live in the wild. Meanwhile, Dr. Doofenshmirtz aims to do a better job of seeing through his evil plans now that Agent P is back.
Adventure Time (7:30 PM, Cartoon Network):
We didn't get an announcement or clip about this episode from Cartoon Network, which we usually do — so it's possible there's not a new episode after all. But TV Guide and other listings say there is, and it's called "Ignition Point":
The guys sneak into the Fire Kingdom and are caught in a family feud.
There may also be a new Annoying Orange.
Alphas (8 PM, Syfy):
We didn't get to recap last week's episode, but it was pretty solid, especially the stuff with Stanton Parrish teaching free lessons to redshirts. This week:
"Falling": Rosen must decide how to proceed with the mole. Meanwhile, Hicks' son makes an unexpected visit; John is introduced to Rachel's parents; and Kat's first assignment has her on the trail of a powerful new street drug.
Warehouse 13 (9 PM, Syfy):
Honestly all you need to know about this episode is that it apparently features H.G. Wells and Mrs. Frederic geeking out together — and probably figuring out more about the side effects of the astrolabe in five minutes than Artie's managed this whole season on his own.
Pete and Myka uncover people who are rusting away in West Virginia. Meanwhile, Steve tries to quit his dependence on the Metronome by visiting his hometown; and Artie reveals the truth about Brother Adrian to Mrs. Frederic and H.G. Wells.
Revolution (10 PM, NBC):
Chances are you've already seen the pilot episode for this high-concept show, since it's been online for ages. We quite liked this pilot when we saw it at Comic-Con, because it avoids the mopeyness of most post-apocalyptic shows, and instead goes for a swashbuckling adventure tone. But it remains to be seen whether this show will gel the way Kripke's Supernatural did, or fall victim to its huge "starting over" concept, the way Terra Nova did. Fingers crossed! Here's how NBC describes the show: