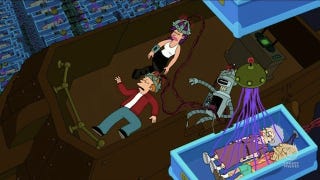 The UN's Department of Economic and Social Affairs estimates that, by the year 2100, life expectancy in developed countries will hover around 97 years and around 106 years by 2300. But will the quality of life for the elderly and retired increase with that increased lifespan? While many science fiction stories promise rejuvenation procedures and freshly grown bodies waiting to download your personality, there are some tales in which our venerable elders (and sometimes not-so-elders) are dehumanized — sometimes in uncomfortably close exaggerations of the modern day.
Living the same hour over and over again: In Charles Yu's How to Live Safely in a Science Fictional Universe, you can hide from the world by living out of time. Time machine technician Charles Yu does it by hiding himself in a pocket universe while his retired mother hides from her unhappy memories inside a one-hour time loop. Instead of hanging out in a nursing home, where your dementia constantly reboots your memory, you can just relive the same hour over and over again. Charles' mother chooses an hour of prepping and eating family dinner with simulacra of her son and vanished husband, It might sound appealing on the surface, but you always sort of know that it's not real and that your family hasn't come to visit you in a rather long time.
Being murdered by your younger self: That's the basic setup for the upcoming time-travel flick Looper (you can read our very excited first impressions here). You hang out, spend a few years killing time-traveling criminals for a mob outfit, then close your loop by killing your future self. Then you hang out on a beach in France for the next three decades before you're sent back in time to get killed. This one's a bit different from the other examples, since your death is related to future mob politics rather than old age, but it must be frustrating to know that your death is coming up and you have only your past self to blame.