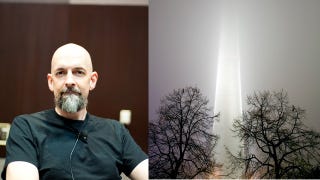 Novelist Neal Stephenson wants to create a 20-kilometer space tower, which could inspire people to believe in innovation again — but also transform the way we travel in the air and into space.
To this end, Stephenson has teamed up with structural engineer Keith Hjelmstad of Arizona State University in an effort to design and build the incredible space tower. The project is an extension of Stephenson's Hieroglyph story, and the Center for Science and the Imagination — an initiative that's working to bring artists and technologists together and "turn science fiction into reality."
Stephenson, like so many others these days, is frustrated with modern society's lack of ambition when it comes to embarking upon really big projects. He calls it "innovation starvation." And in addition to attributing much of it to the pessimistic trend that has largely taken over science fiction, he also blames it on modern information technologies. As he told Stephen Cass of Technology Review, "Everything got put on hold for a generation," while civilization busied itself with figuring out the Internet.