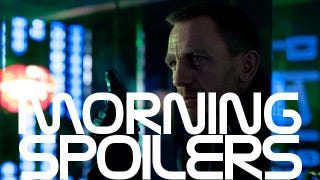 Sherlock's main director finds Frankenstein. Emily Blunt reveals what makes her Looper character so special. Zachary Quinto raves about the Star Trek sequel. Daniel Craig has plenty more James Bond left in him. Plus Dredd, Resident Evil: Retribution, and more!
Spoilers from here on out!
Top image from Skyfall.
Man of Steel
General Zod actor Michael Shannon, offers some high praise for Henry Cavill's work as Superman:
"I always felt like I was in a scene with Superman. I never looked at him and thought that's just somebody trying to be Superman - he felt like the real deal. I really admire Henry's work ethic. I really haven't seen anybody in this business work quite that hard. Obviously it's a tremendous responsibility, and an intimidating one, to wear that suit. But he had the confidence and the work ethic to accomplish it."
[MTV]
---
Star Trek 2
Spock actor Zachory Quinto says the sequel will be even more epic than the first film:
"It was bigger. It was bolder, I think, than the first one, and that was pretty big and bold from my stand point. I'm really excited to see what they do with it
You can watch the full video interview with Quinto below. [The Wrap]

---
Looper
Emily Blunt, who plays another of the titular time travel-assisted assassins, explains what appealed to her about the film and some of her preparation for the role:
That was the draw, that I hadn't done before, and I think the challenge of it was speaking to me in a big way. I admired this character a lot. She's tough and protective and she has a secret. There was just so much to play with. She's kind of a bad ass as well, and I think I hadn't had a chance to play a character like that in a movie of this ilk, you know? I was more than anything drawn to playing that part.

You also have a son in the film, played by Pierce Gagnon. What was it like working with him?

I just tried to spend every moment I could with him, so we'd have a bond that would show on screen, and he'd be comfortable with me physically - I could lift him around and hug him and he wouldn't feel uncomfortable. So we'd hang out constantly. We had lunch together. We did a bunch of stuff together.
[EW]
Director Rian Johnson drops a small hint about one of the movie's settings:
"There's a sequence in the film that is set in China that was originally set in Paris. It's not so much that I think China would be better than Paris. It's that we didn't have the budget to go to Paris. Our Chinese distributor stepped up and said, 'You can come to Shanghai and film those scenes.'"
---
Dredd
Here's an interview with star Karl Urban. [IGN]

---
Skyfall
While we're still awaiting the release of Daniel Craig's third outing as James Bond, there are now reports that Craig is indeed signed on for two more after this, which would make him the third longest-serving Bond after Roger Moore and Sean Connery. The early word is that the next two films could be out as soon as 2014 and 2016 — the long delay between Quantum of the Solace and Skyfall is because MGM went bankrupt, though pretty much everyone involved has said the extra development time helped make for a significantly better film. And, much as I consider Quantum of Solace criminally underrated, it's hard to argue that that movie couldn't have benefited from a little extra time. [MI6 HQ]
---
Frankenstein
Though initially attached to Real Steel's Shawn Levy, 20th Century Fox's Frankenstein movie has reportedly found a new director in Paul McGuigan. He's previously directed the surprisingly decent genre efforts Lucky Number Slevin and Push, although his best work is probably his ridiculously stylish direction of multiple Sherlock episodes. The movie has a script by Chronicle's Max Landis, which is described as "a revisionist, sci-fi take on Mary Shelley's 19th century novel" that "is said to focus on themes of friendship and redemption." [Variety]
---
Horns
Max Minghella, whose previous credits include The Social Network (that's good!) and The Darkest Hour (that's...did I mention he was in The Social Network?), is reportedly in talks to join the cast of Piranha 3D director Alexandre Aja's adaptation of Joe Hill's novel, in which Harry Potter star Daniel Radcliffe plays a dude who wakes up one day with horns growing out of his head. While that really seems like all the premise you'd ever need, Radcliffe's character comes to realize the horns have some connection with the mysterious murder of his girlfriend. Minghella is set to play public defender Lee Tourneau. [Shock Till You Drop]
---
Beware the Night
The Exorcism of Emily Rose director Scott Derrickson is reportedly going to direct this film from a script he co-wrote with Paul Boardman. The film is reportedly "set in a paranormal world and follows a New York police officer investigating real life demon possessions, exorcisms and werewolves after dark." In the least surprising development imaginable, Mark Wahlberg is reportedly being considered for the main role. [The Wrap]
---
Matched
David Slade, whose previous credits include 30 Days of Night, Twilight: Eclipse, and almost directing Fox's ill-fated Daredevil reboot, has reportedly signed on to direct Disney's adaptation of this dystopian YA romance by Ally Condie. We previously featured a trailer for the book, and here's the official description of the novel: