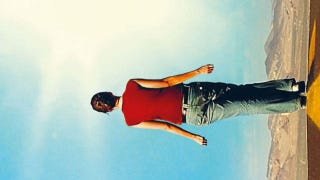 Karen Thompson Walker's The Age of Miracles got huge buzz over the summer, with mainstream magazines like Entertainment Weekly giving it rave reviews. I lost count of how many times I saw it referred to as one of the year's most important books. My local indie bookstore has it in a coveted corner spot on the "new fiction" table, as of a few days ago. Supposedly Random House paid $1 million for the book rights.
So I was really curious to read Age of Miracles — and sadly, it's not that great. And it's the ultimate example of that mythical beast: the literary novel by someone who apparently thinks doing science fiction is easy. Spoilers ahead...
The Age of Miracles has a premise worthy of Roland Emmerich, or the makers of The Core. The rotation of the Earth slows down, and pretty much overnight, one day is 25 hours. Within a short time, the days get longer and longer. So by the time you're a ways into the book, a day is 48 hours long, meaning that there are 24 hours of sunlight and around 24 hours of darkness. Meanwhile, gravity gets heavier for some reason, so all the birds fall out of the sky and die, and there are plagues of insects that the birds no longer eat. Eventually, people start getting sick for unexplained reasons — which is a separate phenomenon from the horrible burns as the Earth's magnetic field slowly vanishes.
To the author's credit, at no point does anybody seriously claim that this global slowdown is anthropogenic or due to global warming or whatnot. On the flipside, though, there's no explanation. It's just a thing that happens.
A lot of people I talked to at Worldcon said they'd refused to read Age of Miracles due to the ridiculous premise. But I'm pretty tolerant of ludicrous story ideas — if nothing else, you can always view something like that as a metaphor or a version of magic realism. Plus, if you read enough classic golden age science fiction, you're bound to come across some insane ideas, and if someone told me there was a lost Philip K. Dick novel where the Earth slowed down and gravity got heavier, I would read it in a heartbeat.
And Age of Miracles is not a terrible book. Just very mediocre. There's some lovely writing in there, but it's not enough to rescue it from some major flaws. In particular, there are long stretches of exposition that feel totally disconnected from the main character — in a novel with a first-person narrator, there are huge chunks that feel distanced and overstuffed with information. And it never really feels as though this person is dealing with endless darkness followed by endless light. (Can you imagine how intense that would be?) It never feels like there are really bugs everywhere, or anything. A novel with such a huge premise needs to feel visceral and inescapable — you need to feel like you're trapped in a day or a night that won't quit — and Walker doesn't even try to go there.
Age of Miracles is a very conventional, by-the-numbers coming-of-age novel, which could mostly work with the "global slowing" element removed. The main character, Julia, goes through puberty, falls in love with a boy, deals with bullying, realizes her dad is having an affair, and confronts her grandfather's mortality. As a classic growing-up novel in the Judy Blume and Beverly Cleary tradition, it's not bad stuff at all. You would need to make one or two minor tweaks to make the main character's story work without any of the "global slowing" stuff, like invent some other reason why people hate her piano teacher. (More on that in a minute.)
But the personal stuff is interspersed with long, somewhat dry passages, where Walker tells us what's happening around the world, with the global slowdown. And this stuff feels like a synopsis for a novel that she hasn't bothered to write. Seriously. The first chunk of every single chapter is a long info-dump, where huge, disastrous events are described, as if from a great distance. And then we return to the tight first-person POV of Julia, whose life goes on, with some fairly major inconveniences.
The expository passages describe huge global disasters, including floods and famine and stuff, but none of this stuff seems to touch the protagonist directly, most of the time. (Even when the main character mentions that they need floodlights to go to school when it's dark outside, you don't feel it.) There are plenty of exceptions to the "show don't tell" rule, but this novel is like Exhibit A for why that rule exists.