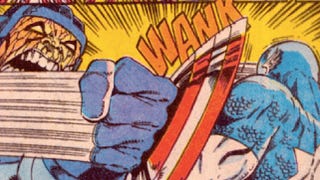 Today is Labor Day stateside, and many of you are enjoying a brief respite. Not Captain America though — Marvel Comics' star-spangled crusader has been fighting crime for decades (only to pause for twenty odd years to be frozen in a glacier). Such a track record guarantees an off day (or eight), so here they are, recorded for posterity.
8. Captain America had his own cargo cult
In the decades between World War II and present day, Captain America whiled away the hours trapped in Arctic ice. Cap's suspended animation made into his 2011 movie, but the film also left out a fantastically asinine detail from Marvel Comics canon — Captain America's frostbitten body was worshipped by bored Inuits.
Yes, instead of contacting absolutely anybody that they discovered a dead member of Mummenschanz, this community of Inuits worshipped Steve Rogers' body like some John Frum in a pervert suit.
They never got around to breaking his shield into communion wafers because Namor the Sub-Mariner showed up and acted like a dick for no particular reason, as has been his primary character motivation for the past seventy-something years.
Incidentally, this storyline is still kicking around today. I'm honestly surprised the notion of people venerating superheroes isn't widespread throughout comic book universes. I want to worship at the First Parish of Wolverine, where the devout drink Molson until they forget their past selves.
7. Captain America once made a child crap his trousers
"♪ When Captain America throws his mighty shield ♬ All those who chose to throw that snow must BLAAAAAAARP ♫"
6. Captain America can't beat Batman in a fistfight
Try as he may, the Sentinel of Liberty can't best Batman in one-on-one fisticuffs. In the 1996 cross-universe Amalgam miniseries, Batman and Captain America battled in a sewer. This time, the Dark Knight came out on top. (To be fair, he's also beaten the Hulk mano-a-mano.)