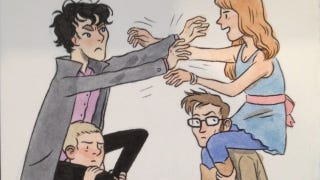 We're excited for today's return of Doctor Who, but like a big segment of the Internet, we love imagining the Doctor crossing paths with another brilliant BBCer, Sherlock Holmes. To celebrate the return of Who, we've collected some weird and wonderful comics and illustrations that try to answer the question, "What if Sherlock met the Doctor?"
Top image by Lucy Knisley.
Buzzfeed collected a few dozen pieces of artwork featuring the most recent Sherlock Holmes and the Doctor side by side (with quite a few bits of slashart). Here we go a bit more of a comic route, with fans imagining brief interactions between the deductive detective and the Doctor.
reapersun imagines a meeting between Sherlock and Ten that leaves the Doctor quite unfazed.
reapersun also presents Sherlock and Watson playing a bit of mischief with a Dalek. Watch out, little Dalek, Sherlock has a habit of shooting up those smiley faces.
In Silarcta's meeting of these two minds, however, Ten is a little concerned about the consulting detective's driving.
oyo-yoh imagines Sherlock and the Eleventh Doctor exchanging companions.
Perhaps this is the same oyo who pit Sherlock against a Dalek in a debate. [via Buzzfeed]
halorvic also imagines a Sherlock/Dalek debate. It appears to being not so well for the Dalek.
Anthony Naylor of the Daily Dalek opted to transform both Sherlock and Watson into murderous alien cyborgs. It's a good look.
viria13 has Sherlock and Eleven arguing over their...tools.
The webcomic series Comic Who follows the adventures of the rejuvenated Doctors Nine, Ten, and Eleven along with their friends and foes. In an outtake episode, the Docs spot Sherlock talking to Doctor Who and Sherlock's own Steven Moffat and Mark Gatiss, only to have the writer/producers notice the lot of them, leaving Sherlock open for Captain Jack to swoop in.
The Science of Deduction opts for a simple, straightforward crossover. Just how would Sherlock's analysis of the TARDIS go? Presumably, he'd have some awareness of it had it ever appeared in his dimension and time.
Okay, yes, we're not supposed to call Sherlock a sociopath. But geothebio's t-shirt forces us to contemplate what mayhem these two would get up to inside the TARDIS.