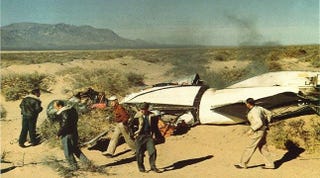 The earliest practical precursor to the human space flight program was Project Albert. It was a horrific failure, with nearly all its pilots unable to survive the ordeal. Of course, these pilots were monkeys. Still, their story — full of confiscated rockets, drugs, and desert skies raining body parts — is one of the most tragic tales of the early space program.
Towards the end of World War II, a group of German aviation experts found themselves in possession of a lot of rockets and not a lot of pleasant options. They had engineered the V-2 rocket, which had been used to vigorously bomb Britain. They were on the losing side of a war that had inflicted massive casualties on the USSR. Both armies were now closing in and the scientists didn't relish the prospect of being captured by either of them. And so they went looking for Americans. When they found them, they offered to lead the American military to whatever rocket parts they could offer in exchange for political considerations and transport to America.
They got the transport, and America got a lot of rockets. These aviation experts did various things with the V-2s, including accidentally bombing Mexico once, but one of the most exciting ideas they had was preliminary tests for sending humans into space. This was hard to do, since no one knew anything about the effects of space on physiology. It was entirely new territory. And so they started the project in 1948 with an ill-fated rhesus monkey named Albert.