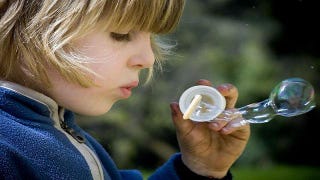 Like most people, you probably spent a portion of your childhood with a bubble wand in your hand. And you probably know that bubbles are mercurial little guys — always zooming away and popping when you catch them. But there's little way to trap them without popping them. With carbon dioxide and a little practice, you can suspend soap bubbles in an invisible trap, and then study them at close range.
Let's face it. Carbon dioxide owes you. You create it. Your industrialized world keeps it going. You cut down the trees that destroy it. And what does it do for you? It heats up your world, melts your ice caps, smogs up your cities, and probably suffocated thousands of your ancestors before they figured out how to properly ventilate their caves. You've stockpiled a lot of credit when it comes to carbon dioxide, and so it should be obligated to help you out with one of the best aspect of childhood: bubbles.
Carbon dioxide is a heavier gas than air. This is one of the reasons why it can be dangerous. If it's at the same temperature as the air, it settles into enclosed areas much the same way water will settle into a pool. If the space it too perfectly sealed it can suffocate people. On the other hand, it's relative heaviness compared to air combined with its complete invisibility, makes for some interesting visual demonstrations. We've seen how it can be used to put out candles invisibly. It can also be used to either trap bubbles or make them bounce like they're ricocheting off an invisible wall.