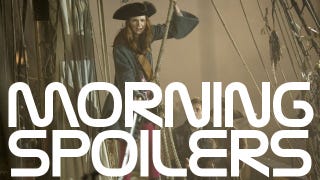 Fox hopes it's found its very own Hunger Games. Khal Drogo gets a new lease on life as a badass werewolf patriarch. Kick-Ass 2 gets another insane villain. There's a photo of Jamie Chung as Mulan in Once Upon a Time. And how about Space Jam 2... starring LeBron James?
Spoilers from here on out!
Top image from Doctor Who.
Robocop
After a discouraging couple of weeks that saw an early negative review for the script and Hugh Laurie exit the project, leaving the movie's strategic reserves of awesome British supporting players at just Gary Oldman, the Robocop reboot could really use some good news. Well, this translated quote from Fernando Meirelles, the director of the unspeakably awesome City of God, on how his friend and fellow Brazilian director Jose Padilha is faring with Robocop is most definitely not that good news: