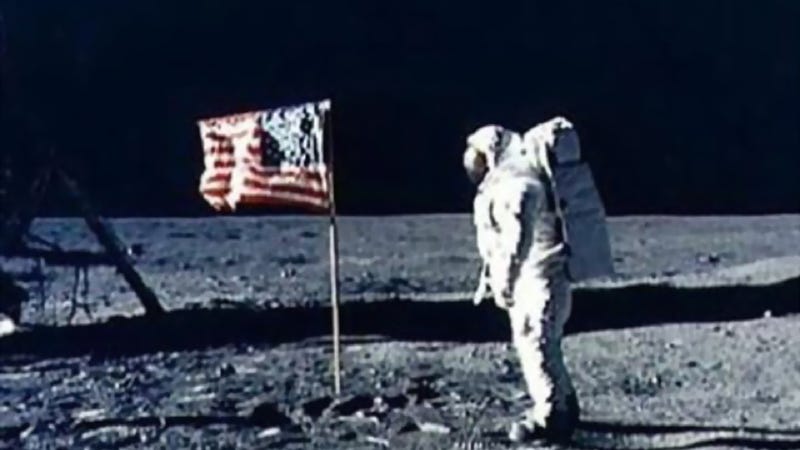 On July 21, 1969, The New York Times' John Noble Wilford penned the newspaper's front-page article on humanity's first steps on the Moon. It is a tremendous piece of journalism — one that warrants revisiting today as we remember the late Neil Armstrong, who showed us what it means to dare mighty things.
We've included an excerpt of the article below, but you'll find the entire piece over at NYT.
Wilford begins:
HOUSTON — Men have landed and walked on the moon.

Two Americans, astronauts of Apollo 11, steered their fragile four-legged lunar module safely and smoothly to the historic landing yesterday at 4:17:40 P.M., Eastern daylight time.

Neil A. Armstrong, the 38-year-old commander, radioed to earth and the mission control room here:

"Houston, Tranquility Base here. The Eagle has landed."

The first men to reach the moon — Armstrong and his co-pilot, Col. Edwin E. Aldrin Jr. of the Air Force — brought their ship to rest on a level, rock-strewn plain near the southwestern shore of the arid Sea of Tranquility.

"That's one small step for man, one giant leap for mankind."

His first step on the moon came at 10:56:20 P.M., as a television camera outside the craft transmitted his every move to an awed and excited audience of hundreds of millions of people on earth.

Tentative Steps Test Soil

Armstrong's initial steps were tentative tests of the lunar soil's firmness and of his ability to move about easily in his bulky white spacesuit and backpacks and under the influence of lunar gravity, which is one-sixth that of the earth.

"The surface is fine and powdery," the astronaut reported. "I can pick it up loosely with my toe. It does adhere in fine layers like powdered charcoal to the sole and sides of my boots. I only go in a small fraction of an inch, maybe an eighth of an inch. But I can see the footprints of my boots in the treads in the fine sandy particles."

After 19 minutes of Armstrong's testing, Colonel Aldrin joined him outside the craft.

The two men got busy setting up another television camera out from the lunar module, planting an American flag into the ground, scooping up soil and rock samples, deploying scientific experiments and hopping and loping about in a demonstration of their lunar agility.

They found walking and working on the moon less taxing than had been forecast. Armstrong once reported he was "very comfortable."

And people back on earth found the black-and-white television pictures of the bug-shaped lunar module and the men tramping about it so sharp and clear as to seem unreal, more like a toy and toy-like figures than human beings on the most daring and far-reaching expedition thus far undertaken.
Continue reading at The New York Times.