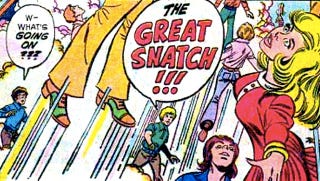 In the 1970s, Archie and Marvel Comics artist Al Hartley — who became a born-again Christian the previous decade — began writing and illustrating religious comics. Some of these evangelical funny books starred Jughead discovering Jesus, whereas others were space operas about Space Satan and his tricked-out UFO.
Throughout the Seventies, Spire Christian Comics published a few dozen one-offs by Hartley, many of which can be read in full here. Perhaps the most outlandish Spire title was an adaptation of Hal Lindsey's millenarian text There's A New World Coming.
With Hartley at the helm, Bible lessons became psychedelic freak-outs. Just check out the panel at left — the Book of Revelation is now a nitrous oxide leak at the Crayola factory.
Throughout the comic, the three young narrators witness the apocalypse from a variegated dimension that almost certainly tastes of fragrant sherbet.
The children are absolutely giddy from this universe of flavor, so every single one of their observations are punctuated with screaming and rainbows. We learn some valuable lessons along the way, such as...
...atheists might be at the risk of subatomic combustion.
...the Anti-Christ wears heels (remember, he also has a catchy theme song).