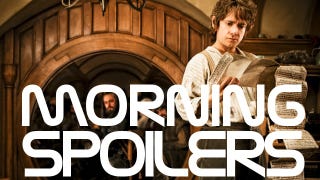 Sam Raimi reveals what's he seen of the Evil Dead reboot. Ryan Kwanten reveals what the True Blood finale has in store for Jason Stackhouse. Meet The Walking Dead's newest character. Plus our first look at Sylvester McCoy's wizard in The Hobbit !
Spoilers from this point forward!
Top image from The Hobbit.
Thor: The Dark World
Kat Dennings will reportedly be back as Darcy Lewis, making her the last of the main cast members to have her return confirmed. Her part will reportedly be somewhat expanded this time around, although it's not yet clear what exactly that means. [Deadine]
---
The Avengers 2
Joss Whedon recently attended a press junket in Japan, and a translation of what he had to say is making the rounds. We can't vouch for its accuracy 100%, especially considering what Whedon said was presumably translated into Japanese, and then this report was translated back into English, which means there are multiple opportunities for things to get garbled. Anyway, Whedon reportedly said for the sequel that he "wants a somewhat smaller-scale film in that it'll be more personal, but teases larger event, team and villain" and there will be "a bigger team for The Avengers 2, with at least one new character he's adding." Considering Edgar Wright's Ant-Man is this close to happening, he has to be considered a contender for the new spot, although he also mentioned that he almost included the Wasp in the first movie, so she's also a possibility — not to mention the rumors of Agent Coulson becoming Vision. You can check out the link for some more tidbits. [Screenrant]
---
Zero Theorem
Now that Terry Gilliam is officially making this movie — or, since this is Terry Gilliam we're talking about, attempting to make the movie before the cruel, indifferent cosmos sabotages him at every turn — the director has started talking about what to expect. The latest plot synopsis is here, and now there's an official announcement that Gilliam posted to Facebook: