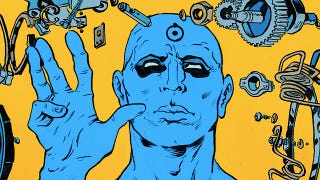 Hey, it's Wednesday tomorrow! What first issues do we have? J. Michael Straczynski and Adam Hughes try their hand with a naked azure demigod in Before Watchmen: Dr. Manhattan (that's Paul Pope's cover above). The Buffy The Vampire Slayer: Spike miniseries sees James Marsters in some unfamiliar surroundings:
On his own adventure, Spike is forced to examine the man he once was, the man he is now, and the man he still hopes to become. As master of a steampunk ship filled with loyal, oversized alien cockroaches, Spike embarks on a journey to the dark side of the moon, setting into motion an adventure filled with demons, witches, and others who brew new evil in the world without magic!
Dark Horse is also releasing a new Dragon Age miniseries (Those Who Speak) and a Lobster Johnson one-shot, Prayer Of Neferu ("The Heliopic Brotherhood of Ra hold a Victorian themed party complete with the unrolling of a mummy").
There are also new issues of Flash, All-Star Western (preview here), Batman Inc., The Unwritten, Fatima: The Blood Spinners, Mind MGMT (discussion with series author Matt Kindt here), Dark Horse Presents, Punisher, Adventure Time, Uncanny X-Men, Cobra, Danger Girl/G.I. Joe, and Dungeons & Dragons: Forgotten Realms (previews of the latter here).