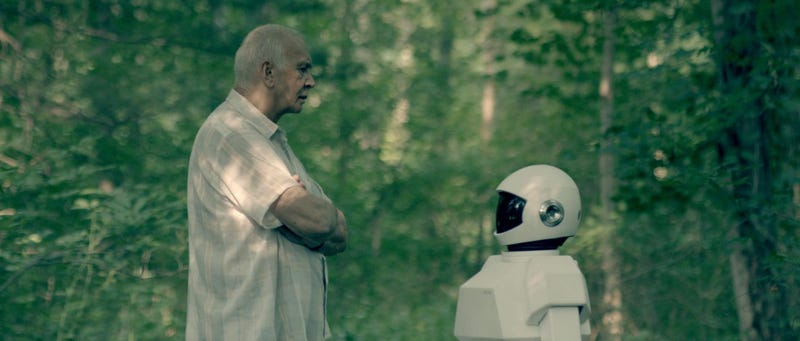 The best science fiction is usually about our relationship with technology in some way — how technology changes us, and how we shape it, in turn. But it's rare for science fiction movies to have something interesting to say about technological and scientific progress. That's why Robot and Frank isn't just one of the year's best movies — it's also a must-see piece of science fiction.
Minor spoilers ahead... Having just rewatched the movie's trailer, let's just say that this review will be considerably less spoileriffic than the ultra-spoilery trailer.
In Robot and Frank, Frank (Frank Langella) is a former cat burglar who's retired, and who's losing his marbles somewhat. Frank's son Hunter (James Marsden) is sick of driving six hours to check on his dad once a week, so he decides to get Frank a personal care robot (voiced by Peter Sarsgaard). Frank hates the robot at first — until he realizes he can talk the robot into helping him to return to his burglarly career, in the name of helping his recovery.
There's also a fascinating subplot in which the local public library, where Frank likes to hang out, is being turned into some kind of digital monstrosity and all the books are being recycled. The local librarian (Susan Sarandon) is having to come to terms with the changing ways people read and interact with information, and she's saddled with her own, somewhat more obnoxious, robot helper. In charge of the library's renovation is Jake (Jeremy Strong), an unbelievably smug hipster whom you want to toss off a tall building the first time you meet him.
(We hosted a Q&A with director Jake Schreier last week, and you can read it here.)