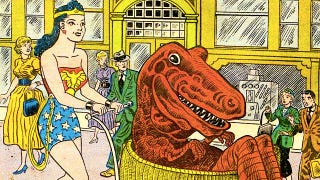 Superheroes like Batman, Superman, and Spider-Man all have enemies that are immediately familiar to those unversed in comic book minutiae. But Wonder Woman? Sure, she has recurring antagonists like Circe, Cheetah, and Ares, but nobody on par with, say, Lex Luthor or Venom. Here are nine nemeses that would transform a Wonder Woman movie into an arthouse classic.
9. A Telepathic Misogynist Dwarf
Doctor Psycho was medical student who — after he was framed by his unfaithful fiancee and her paramour — used his superior, out-of-nowhere mental powers to force him to eat radium and her to marry him, "a fate worse than death."
He also turned the US military against Wonder Woman by impersonating George Washington, but that's almost secondary to the brainwashed radium-chewing and creepy hypnotized nuptials.