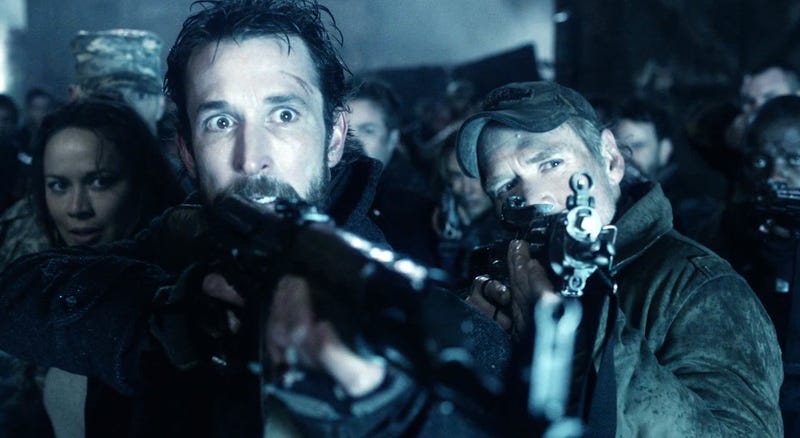 There's something that happens to a lot of TV shows, when they start throwing around 20 story ideas instead of focusing on one, and trying to manufacture emotional connection where none exists: The stakes start to feel unreal. The characters start to feel like they're performing against a cardboard backdrop, and we don't care about the things they care about. The drama is half-cooked.
This is something that happens to many genre TV shows, in particular, perhaps because we're already being asked to invest in huge, somewhat abstract notions like alien invaders or time machines. And after last night, I have a strong and nagging feeling that it's happened to Falling Skies.
Spoilers ahead...
I really wanted to like Falling Skies, and at times I've enjoyed it a lot. But it seems as though the show has finally just lost its way altogether. Last night's season finale was the perfect combination of:
1) conflicts that felt undeveloped or rushed
2) stakes that were confusing or lacked credibility
3) plot twists that left me scratching my head
To the point where I've been dragging my feet on writing this recap all day. I really like what this show has been trying to do, but last night's episode made me feel like I'd overdosed on lithium or something. I could not bring myself to care about anything I was seeing on my screen. Even to be annoyed by it. I liked last week's episode, because it had a single focus and was tackling real issues, but this week was a return to storytelling that was both dull and over-reaching.
So let's take these one by one:
1) Conflicts that felt undeveloped or rushed
This includes all the stuff that seemed to work so well last week. So is there a military coup in Charleston? Over the course of the episode, Arthur Manchester is in a cell, then he's back in his office under "house arrest," and finally civilian rule is restored, but Arthur is ousted as Majority Leader. None of these developments feels like it comes from anywhere.