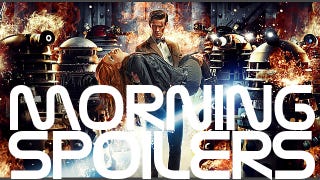 Marvel Studios is considering another intriguing offbeat choice to direct the studio's weirdest movie yet. The Captain America sequel is close to finding its female lead. Plus awesome casting updates for Iron Man 3, Game of Thrones, Revolution, and Warehouse 13!
Spoilers from here on out!
Top image from Doctor Who.
Guardians of the Galaxy
James Gunn is reportedly in talks to direct Marvel's most fearlessly out-there and cosmic movie yet, Guardians of the Galaxy. Gunn previously proved his superhero bona fides with the ultraviolent indie film Super, which might actually have been our favorite superhero film of 2011 — and considering how strong some of the competition was, that's actually saying something. (He also directed the zero-budget team superhero movie The Specials, which is also pretty solid.)