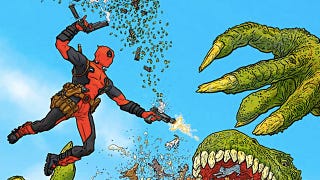 Can you feel a nip in the air? We sure as heck can't, because it's still August and hotter than the Twilight Sword of Surtur the fire demon. But when the weather turns, these titles will be landing in your neighborhood comic shop.
What weirdness is coming out this fall? Alan Moore's collaboration with the manager of the Sex Pistols, Mike Allred drawing Ant-Man, Grant Morrison penning a blue pony, and much more.
Late August/September
For DC Comics, Justin Gray and Jimmy Palmiotti pen a new miniseries starring a revamped Phantom Girl, whereas Marvel has Mark Millar's "Batman as a torture-porny supervillain" sequel Nemesis 2.
IDW's got two familiar science fiction releases on the docket — Brannon Braga co-scripts the miniseries Star Trek: The Next Generation: Hive ("In the distant future the entire galaxy has been completely assimilated by Borg and it's king... Locutus! The only hope for the future lies in the past.") whereas Andy Diggle pens a new Doctor Who series starring the Eleventh Doctor.
One of the zaniest releases of the entire season has to be Alan Moore's Fashion Beast, the comic book adaptation of an unpublished, unfilmed screenplay he wrote with Sex Pistols svengali Malcolm McLaren. Avatar is publishing this miniseries — here's the synopsis:
Alan Moore's unearthed screenplay comes to life as an incredible comic book series almost three decades later! The mid-80′s were a stunning period of brilliance for Alan Moore, seeing him create true masterpieces including Miracleman, Watchmen –- and Fashion Beast! Working with Malcolm McLaren (Sex Pistols), Alan Moore turned his attention to a classic re-telling of a fable through his unyielding and imaginative vision. The two developed a story that redefined Beauty and the Beast in a dystopian future city dominated by a fashion house, which Moore then fully-scripted into a huge screenplay. Never previously published, this epic work is now adapted for comics by long-time Moore collaborator, Antony Johnston (Courtyard) preserving every scrap of Moore's original dialogue.
Finally, Image Comics is releasing Grant Morrison and Darick Robertson's Happy, which promises dark, high-concept weirdness:
Meet Nick Sax - a corrupt, intoxicated ex-cop turned hit-man, adrift in a stinking twilight world of casual murder, soulless sex, eczema and betrayal. With a hit gone wrong, a bullet in his side, the cops and the mob on his tail, and a monstrous child killer in a Santa suit on the loose, Nick and his world will be changed forever this Christmas. By a tiny blue horse called Happy...
Finally, DC Comics is launching their "Third Wave" of New 52 titles in September: Talon, Team 7, Phantom Stranger, and Sword of Sorcery , which is written by Christy Marx of Jem fame. (Most of DC's superhero stable is releasing one-shot #0 prequel issues as well.)