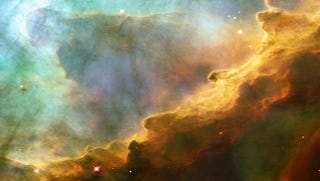 We all know that some parts of the images that NASA, and any space agency shows us are "fake." Not fake as in they were made in a facility in Arizona, but painted with colors other than the ones that were collected, omitting some bits of information and emphasizing others. We'll take a quick look at how partially fake pictures can be better than real ones.
Today, a great many people are going to be looking at images from Mars from the Curiosity rover. For the past few years, NASA has shown us images and even videos from the Opportunity rover. Much oohing and ahhing has been done, and all of it deserved. Yet in most comment sections of most sites you will see a few people talking about the tinting of the pictures, or the outright fakery of the pictures. Some of these come from outright conspiracy theorists. Some come from people who are part of the ongoing debate about how much artistry goes into each picture.
There was a minor furor in 2004 when a New Scientist article raised questions about the true color of Mars. Accusations of NASA tinting the pictures it got from Mars to make it look more like the Red Planet of legend (and some said, to conceal green evidence of Martian life) flew. It turned out to be a simple filtering mix up. The Mars rover used green, blue, and red filters to approximate colors as people would see them. The red filter, however, was usually a waste of time, since their was little green or blue on Mars. There were some on the space craft that had landed, though, as so when the rover used green, blue, and infrared filters, the blues and the greens looked reddish, and people saw the entire picture as "fake." As any color-blind person knows, however, just because you see one color incorrectly, doesn't mean you see them all incorrectly.