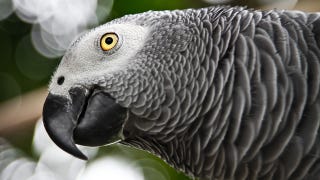 Biologists know that calling someone a "birdbrain" is totally unfair. Birds are much smarter than we give them credit for and they're often observed doing some amazing things — like corvids who can retrieve pieces of food tied to string, or woodpeckers who fashion wood scoops out of tree bark to carry honey home to their young.
And as a recent study has shown, the African Grey parrot may be the brainiest of them all — a bird that we know now can make inferences and reason like a three-year-old child.
One of the reasons why birds haven't been given the respect they deserve is by virtue of the fact that their intelligence evolved along a different track from ours and those of other mammals. This has led to a certain kind of negative bias against birds — but it's one that's starting to fade. Studies into the African Grey parrot in particular are showing a high degree of intelligence, including their counting abilities and vocalization skills.